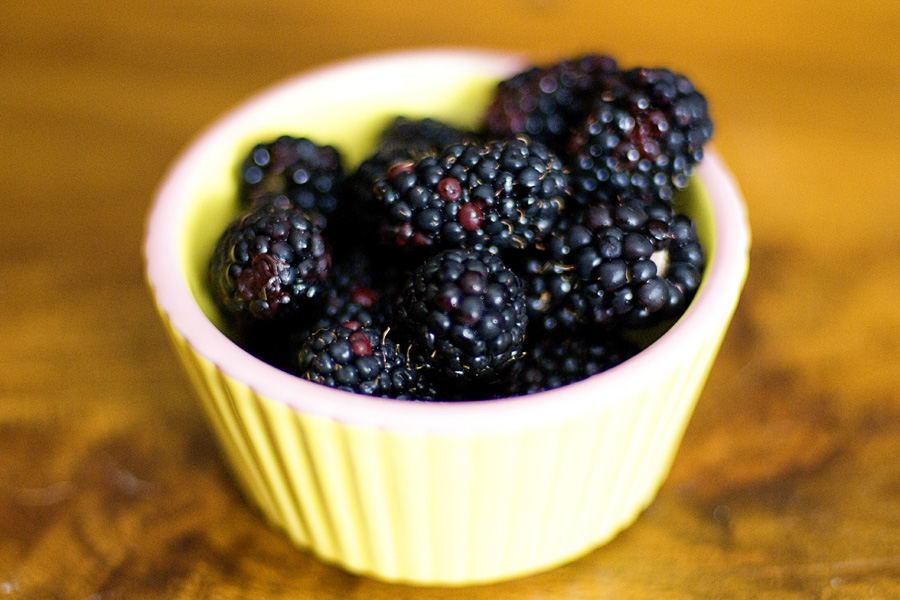 One of the two million reasons I love summer is the abundance of fresh fruit. Everything is in season. Blackberries are one of my favorite fruits. Here's a relatively simple recipe for a blackberry cobbler. If you can tolerate lactose (unlike me), I'd suggest serving it with ice cream.
Blackberry Cobbler
Recipe source: Cooking Light
Print Recipe
1 cup granulated sugar, divided
6 Tbs butter, softened
1 large egg yolk
1/2 teaspoon vanilla extract
3/4 cup whole almonds, toasted
6 ounces all-purpose flour (about 1-1/3 cups)
1/4 teaspoon baking powder
1/4 teaspoon salt
3 Tbs ice water
10 cups fresh blackberries (about 60 oz.)
3 Tbs cornstarch
1 Tbs fresh lemon juice
2 Tbs turbinado sugar
1. Place 1/3 cup granulated sugar and butter in a larger bowl; beat with a mixer until combined (about 1 minute). Add egg yolk, beating well. Stir in vanilla.
2. Place almonds in a food processor; pulse 10 times or until finely ground. (it took far more than 10 pulses for my food processor!) Weigh or lightly spoon flour into dry measuring cups; level with a knife. Combine nuts, flour, baking powder, and salt, stirring well with a whisk. Gradually add nut mixture to butter mixture, beating at low speed just until a soft dough forms, adding 3 Tbs of ice water, as necessary. Turn dough out onto a lightly floured surface; knead lightly 6 times or until smooth. Divide dough into 2 equal portions; wrap each portion in plastic wrap. Chill 1 hour or until firm.
3. Preheat oven to 375F.
4. Combine the remaining 2/3 cup granulated sugar, blackberries, cornstarch, and lemon juice; toss gently. Arrange berry mixture in a 9×13″ glass or ceramic baking dish coated with cooking spray.
5. Unwrap dough. Roll each dough portion into a 9×13″ rectangle on a lightly floured surface. Cut one rectangle, crosswise, into (1-inch-wide) strips. Cut remaining rectangle, lengthwise, into (1-inch-wide) strips. Arrange strips in a lattice pattern over fruit mixture; sprinkle dough with turbinado sugar. Bake at 375F for 50 minutes or until golden. Let stand 10 minutes.
*Note: As you can see below, I'm not skilled in making pretty lattice patterns. If you aren't either, don't worry! Just layer the dough in some sort of cross pattern and it will be fine!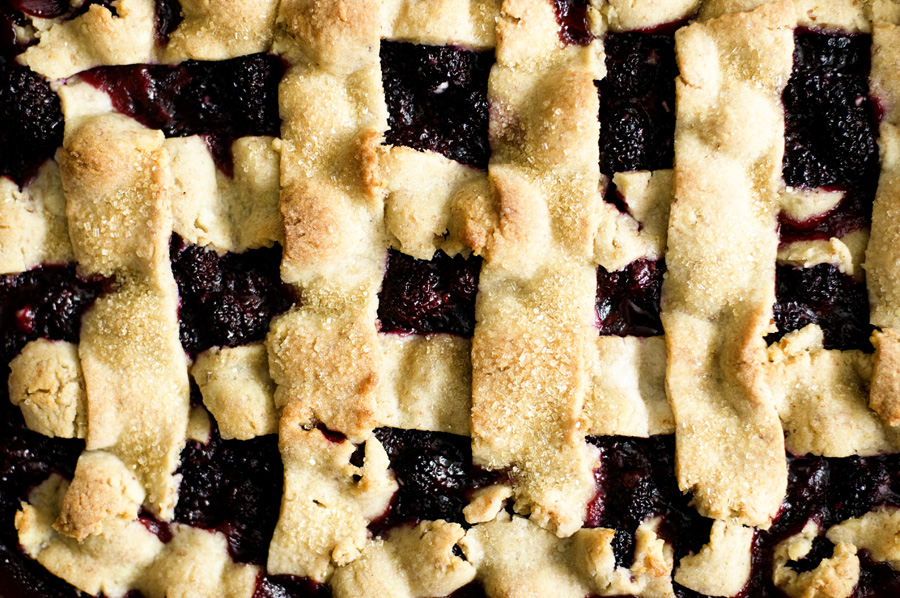 Mmmmm….