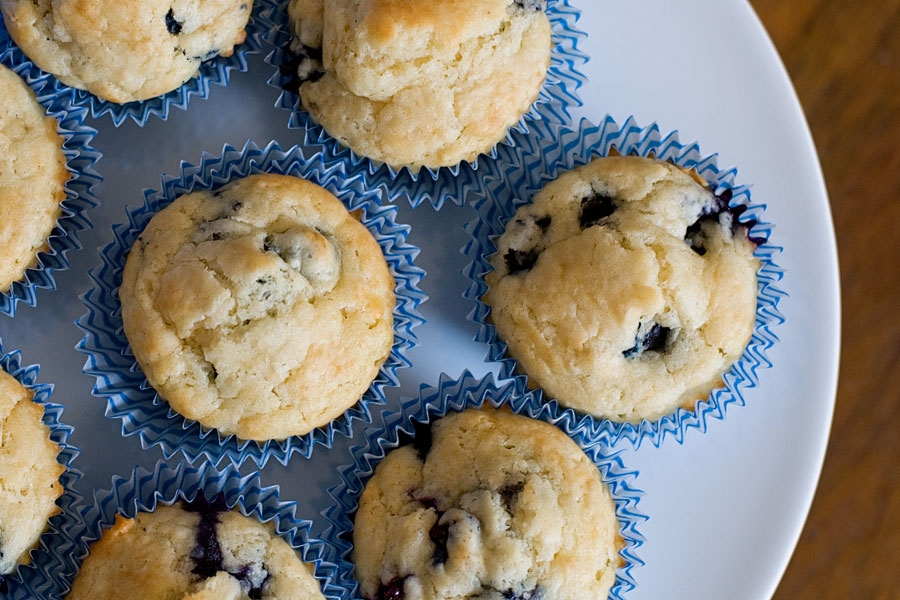 You know what's annoying? Making blueberry muffins from a box mix and having to mix in that little can of teeny, tiny, little, bitty blueberries. I mean, really? Blueberries the size of a pea? Uncool! Make homemade blueberry muffins during the summer – when fresh fruit is at its best.
You know what else is annoying? Making blueberry muffins from scratch and having all of the fresh blueberries sink to the bottom. Again, uncool. The trick to fixing that is to toss the blueberries in a little bit of flour before you add them to the batter. It's easy. Put your fresh blueberries in a small bowl, add a heaping spoonful of flour, and mix to coat the blueberries. Then add them to your batter. The berries won't sink!
Blueberry Muffins
Print Recipe
1-1/2 cups all-purpose flour
1 Tablespoon baking powder
1/2 teaspoon salt
1/4 cup sugar
1/2 stick unsalted butter, melted and cooled
1 large egg, beaten
3/4 cup plus 2 Tablespoons milk
1 cup blueberries
1. Preheat oven to 400F. Line a muffin pan with 10 paper muffin cups or spray with nonstick cooking spray.
2. Sift the flour, baking powder, and salt into a large bowl. In a separate bowl, whisk together the sugar, melted butter, egg, and milk. Pour the wet ingredients over the dry ingredients and whisk until just blended (mixture will be slightly lumpy).
3. Add the blueberries and stir them in just enough to combine.
4. Fill the prepared muffin cups with batter (about 3/4 full). Bake the muffins until golden, about 18-24 minutes. Remove the muffins from a pan and cool on a wire rack.
Makes about 10 muffins, which are best served warm.