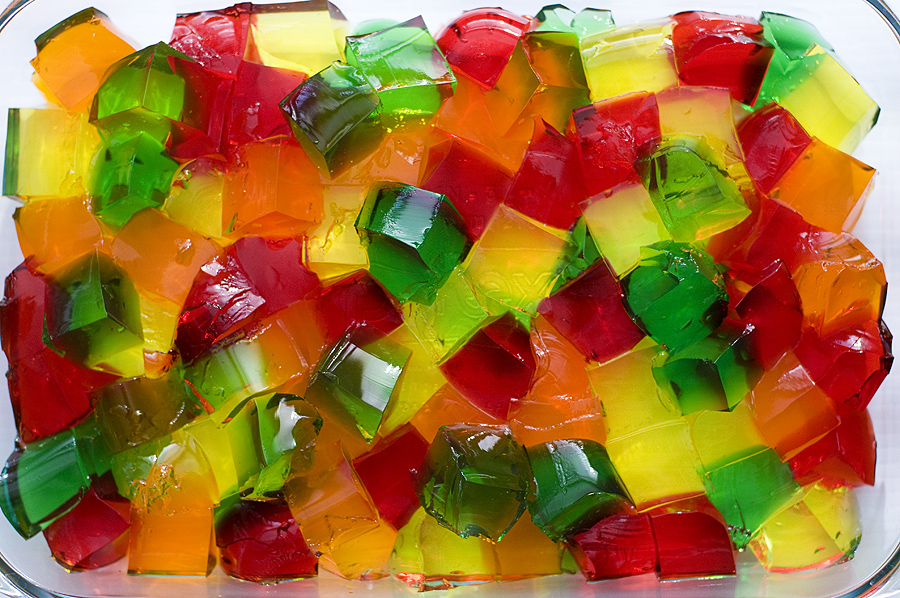 This recipe involves no baking, no fancy techniques, no expensive ingredients, and not much work! It is, however, a little time-consuming! I made this recipe for two reasons: 1) the fire alarm in my apartment blares if I use my oven, so I've had a slight aversion to baking lately and 2) I LOVE JELLO.
Broken Glass Jello
Recipe source: The Food Librarian
Print Recipe
4 boxes (3 oz. each) of Jell-O in different flavors (I used strawberry, orange, pineapple, and lime)
1 can (14 oz.) sweetened condensed milk
2 envelopes unflavored gelatin (Knox brand)
1. For each flavor, dissolve one box of jello in one cup of boiling water. Pour into a container and chill overnight. After chilling, cut them into small blocks (as shown in the photo above). Carefully mix the blocks in a 9×13″ pan.
2. In a separate bowl, sprinkle 2 envelopes unflavored gelatin into 1/2 cup cold water. After the gelatin blooms, add 1-1/2 cups boiling water and dissolve. Add the can of condensed milk. Stir and cool. Once the mixture has cooled, pour over the jello squares and chill overnight.
3. Cut into blocks or shapes and serve.