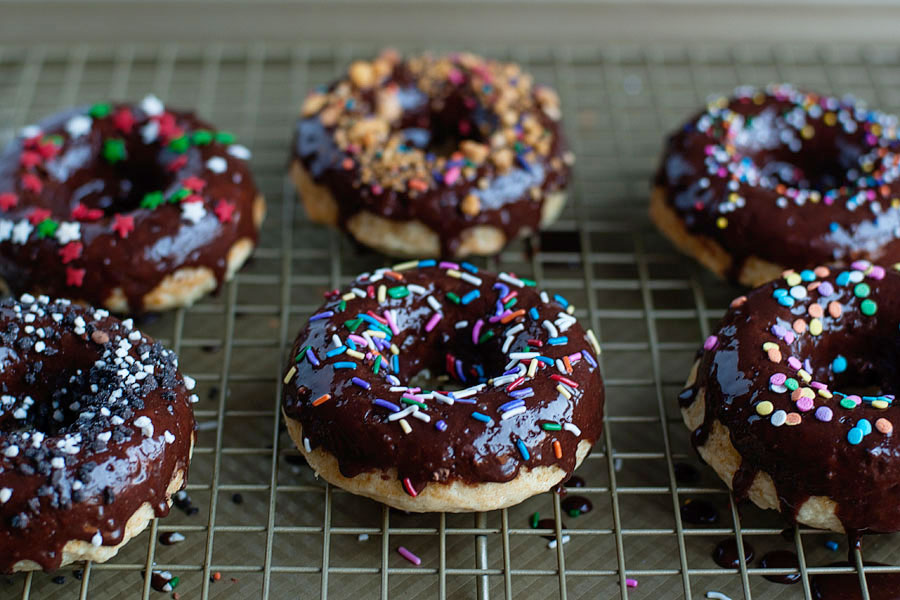 Looking for something fast, easy, and delicious to make on Christmas morning? Try these brown butter baked donuts! They're not fried (I still have an irrational fear of making real donuts — hot, bubbling oil makes me nervous), but they are still delicious. If you have kids, they can help you decorate the donuts with sprinkles!
This will be my last post until after the holidays. I hope you all have a wonderful Christmas and are enjoying this magical time of the year.
Brown Butter Baked Donuts
Recipe source: Joy the Baker
Print Recipe
1 cup all-purpose flour
3/4 teaspoon baking powder
1/4 teaspoon baking soda
1/2 teaspoon salt
1/2 teaspoon freshly grated nutmeg
1/3 cup granulated sugar
3 Tablespoons unsalted butter (but we'll only use 2 tablespoons of browned butter for the recipe)
1 large egg
1/2 cup buttermilk
1 teaspoon pure vanilla extract
For the glaze:
1-1/2 cups powdered sugar
4 Tablespoons unsweetened cocoa powder
Pinch of salt
3 to 4 Tablespoons milk
1 teaspoon pure vanilla extract
1. Place a rack in the upper third of the oven and preheat oven to 350F. Lightly grease a donut pan and set aside.
2. In a medium bowl, whisk together flour, baking powder, baking soda, salt, nutmeg, and sugar. Set aside.
3. In a small saucepan over medium-low heat, melt butter. Butter will begin to crackle and pop as it melts. Once the water has evaporated the butter will quiet down and begin to brown. Keep an eye on it, it browns quickly. The butter will begin to smell nutty. Remove from heat and immediately transfer browned butter (brown bits and all) to a small bowl.
4. In a small bowl whisk together egg, buttermilk, and vanilla extract. Measure out 2 tablespoons of browned butter and whisk into the wet ingredients.
5. Add the wet ingredients all at once to the dry ingredients. Stir together until no flour bits remain and all of the ingredients are well combined. Try not to overmix the batter.
6. Use a small spoon to dollop batter into the prepared pan. Smooth out and fill each doughnut in the pan three-quarters full with batter.
7. Place in the oven and bake for 8 to 10 minutes. Keep an eye on them and try not to over-bake them. Remove from the oven and allow to cool in the pan before inverting onto a wire rack to cool completely.
8. While the doughnuts cool, make the glaze. In a medium bowl whisk together powdered sugar, cocoa powder, and salt.
9. Add the vanilla extract and 2 tablespoons milk. Whisk to combine. Add more milk as necessary to create a thick but still just pourable glaze.
10. Once the doughnuts are completely cool, dip top-side-down into the chocolate glaze. Return to the wire rack and sprinkle with toppings. Allow to set for about 30 minutes before stacking or serving.
Makes six donuts.