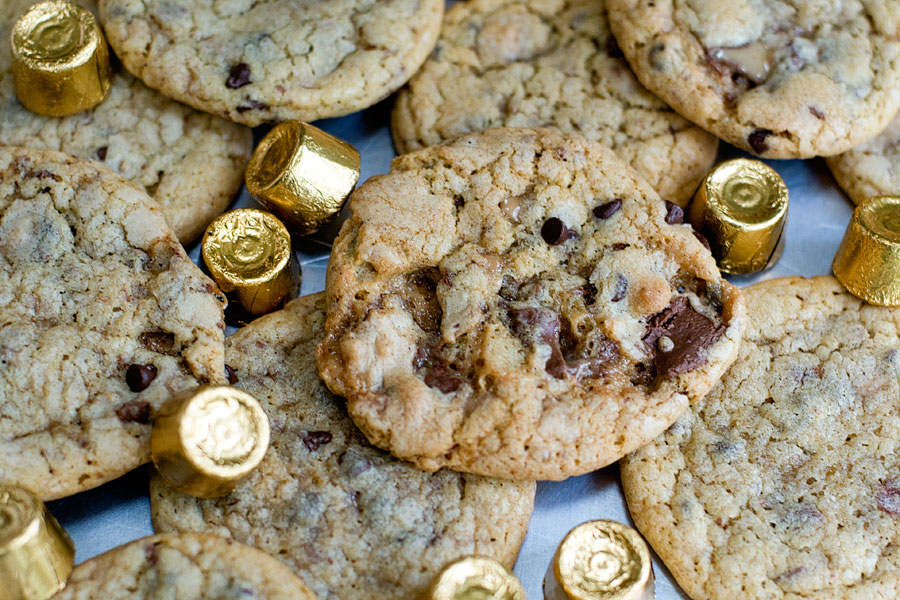 My mom, culinarily speaking, is obsessed with two things: Rolos and anything having to do with toffee. This recipe popped up on Pinterest and within 5 minutes, I had it printed out and a grocery list made for the required ingredients. I made these for my mom and she loved them. The brown butter is fantastic (and why wouldn't it be? Brown. Butter.) — it gives a nutty flavor to the cookies without having to use nuts (which is a definite plus in my book).
Brown Butter Rolo Toffee Cookies
Recipe source: damndelicious.net
Print Recipe
12 tablespoons unsalted butter
2 cups all-purpose flour
1/2 teaspoon baking soda
1/2 teaspoon salt
1/2 cup sugar
1/2 cup brown sugar, packed
1 teaspoon vanilla extract
2 large eggs
1/2 cup toffee bits
1/4 cup miniature chocolate chips
16 Rolos, unwrapped and quartered
1. Preheat oven to 350 degrees F. Line a baking sheet with parchment paper.
2. Melt butter in a medium saucepan over medium heat. Cook, whisking constantly, until the foam subsides and the butter begins to turn a golden brown, about 3 minutes. The butter will start to smell nutty. Once this happens, remove from heat.
3. In a medium bowl, combine flour, baking soda and salt.
4. In the bowl of an electric mixer fitted with the paddle attachment, beat browned butter and sugars on medium-high until well combined. Beat in vanilla and eggs, one at a time, until well combined. Gradually add flour mixture to sugar mixture at low speed, beating just until incorporated.
5. Gently fold in toffee bits, chocolate chips and Rolos.
6. Drop tablespoons of batter onto prepared baking sheet. Place into oven and bake until edges are golden brown, about 7-8 minutes. Remove from oven and cool on a wire rack.
Makes a couple dozen cookies.