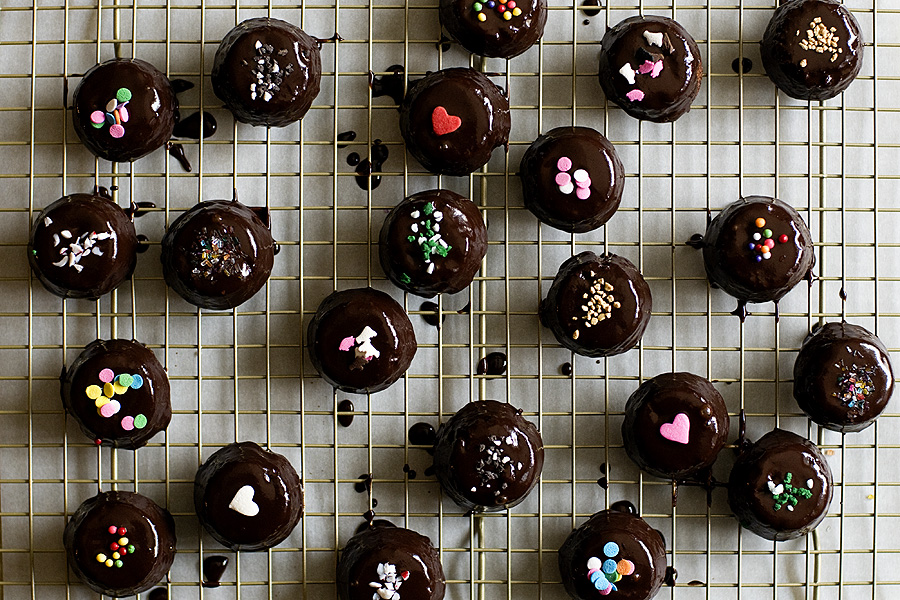 Bite sized brownies covered in ganache. What's not to like about this recipe?!
These were easy to make because I took the easy way out: I used a box brownie mix. The brownie bites can be decorated any way you'd like. As you can see, I used nearly every type of sprinkle that I own.
Yield: About 30-40 brownie bites
Brownie Bites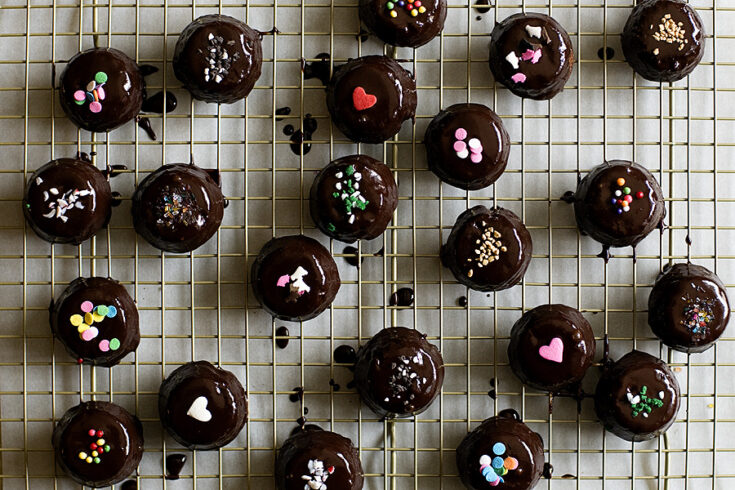 Brownies... but make them tiny and cute!
Ingredients
1 box brownie mix (plus required ingredients according to box directions)
8 oz. semi-sweet chocolate, chopped
1 cup heavy cream, heated
2 Tablespoons light corn syrup
2 teaspoons vanilla extract
Instructions
1. Preheat oven to 325F. Make brownie mix according to box directions.

2. Spoon a generous teaspoon of batter into a well-greased *mini* muffin pan. Emphasis on the WELL-GREASED. Do not over fill the muffin pan because you don't want muffin tops.

3. Bake for 10-14 minutes, or until set. Cool brownies for a few minutes in the pan, then remove to wire rack for complete cooling.

4. Mix the cream with the corn syrup in a microwave-safe container. Add chopped chocolate to a separate bowl. Add vanilla to warm cream mixture, then pour over chopped chocolate. Stir until chocolate totally melts and the mixture is smooth.

5. Dunk the brownie bites into the chocolate mixture and thoroughly coat. Remove with a fork — tapping the fork on the side of the bowl to get rid of the excess chocolate. Carefully set on a baking mat or sheet of waxed paper.

6. Decorate the brownie bites with sprinkles, salt, nuts, fruit, etc.