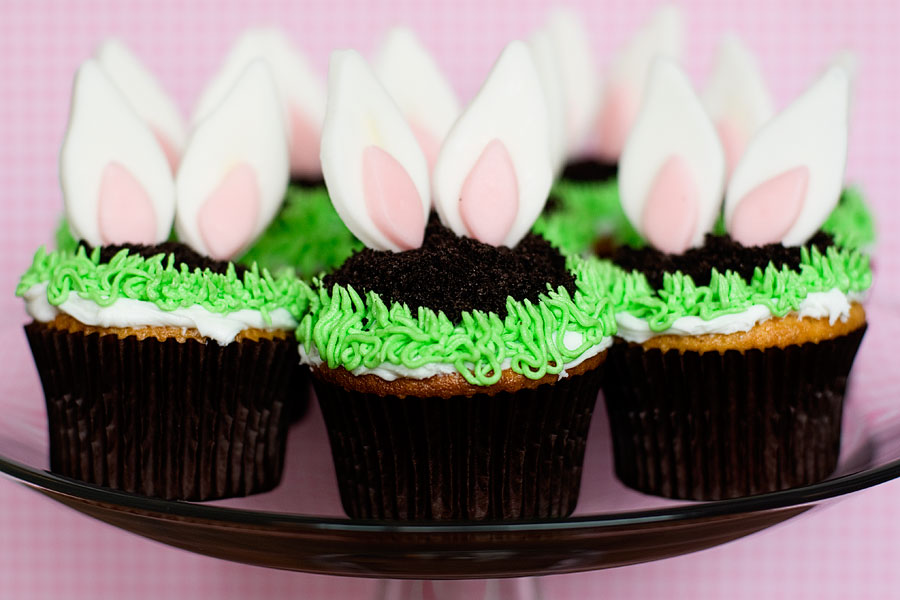 I saw a photo on Pinterest that inspired me to make these cupcakes. Aren't they adorable? Little bunnies! Easter is one of my least favorite holidays (it doesn't mean much to me except pastel colors and Cadbury mini eggs), but each year I am filled with happiness when spring rolls around. Warmer weather, more sunshine, and the anticipation of summer.
Bunny Ear Cupcakes
Print Recipe
1 box cake mix (plus required eggs, oil)
1 tub store-bought frosting (or you can make a batch of homemade buttercream)
1 bag Oreo cookies (…or do they come in a box?)
Green food coloring + a grass tip
White and pink fondant
Fondant leaf cutters (like these)
1. Bake cupcakes according to box directions and allow to cool completely.
2. Tint a portion of frosting green and use a grass tip to create a ring of "grass" around each cupcake.
3. Crush the Oreo cookies using a food processor (or whatever method you prefer). Fill in the center of each cupcake with the Oreo cookie bits.
4. Roll out the white and pink fondant. Cut out the ears using the leaf cutters — use two different sizes, the white fondant should be cut with the larger of the two cutters. Use a small amount of corn syrup to "glue" the pink leaf on top of the white.
5. The bunny ears are now ready to go! I inserted a toothpick into each ear and anchored them into the cupcake that way — but if you have a better method, let me know! You can see part of a yellow toothpick peeking out of the cupcake that is front and center. :)
Enjoy! Makes 24 cupcakes.