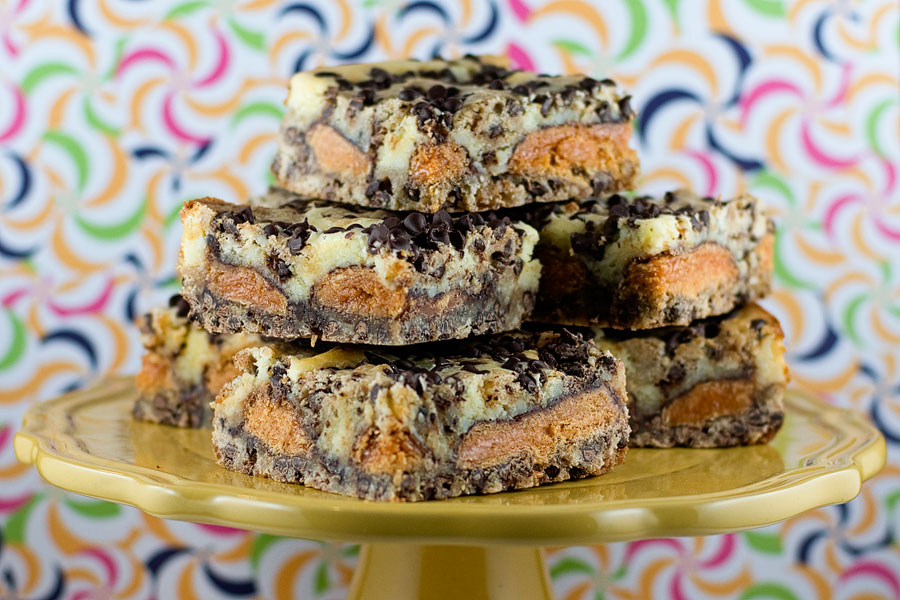 My law school BFF's birthday was a few weeks ago. I told her that I'd make her any treat she wanted and she picked these. I know what you may be thinking: isn't there just a little too much going on in these bars? Butterfingers AND cookie dough AND cheesecake AND a cookie layer?! But trust me, it somehow all works and works beautifully. The cheesecake and Butterfinger flavors dominate, so if you don't like either of those these may not be for you!
Butterfinger Cookie Dough Cheesecake Bars
Recipe source: bakersroyale.com
Print Recipe
For the chocolate chip cookie layer:
1/2 cup butter, melted
1/2 cup brown sugar
1 egg
1/2 teaspoon vanilla
3/4 cup flour plus 2 tablespoons
1 cup mini chocolate chips + 1/2 cup for top
5 Butterfinger bars, king size [I used the mini versions – worked fine!]
For the cheesecake layer:
8 oz cream cheese, room temperature
1/3 cup sugar
1 egg
1 teaspoon vanilla
1. Create a sling by lining an 8×8 inch pan with foil so that there is a one inch overhang on each side. Cover foil with bake spray. Heat oven to 375 degrees F.
2. Make the chocolate chip cookie layer: Melt butter and let cool to warm. Add in brown sugar and mix to combine. Add in egg and vanilla extract and mix to combine. Add in flour and fold to combine. Add in 1 cup of mini chocolate chips and fold to combine. Pour mixture into pan; set aside.
3. Make the cheesecake: Add all the above listed cheesecake ingredients in a bowl and beat until blended. Set aside.
4. Assemble: Press 3/4 of cookie mixture into pan. Place Butterfinger bars side-by-side on top of cookie dough. Pour cheesecake mixture on top. Crumble remaining cookie dough sprinkle on top of cheesecake layer along with remaining 1/2 cup of chocolate chips all over top.
5. Transfer pan to oven and bake for about 30-40 minutes at 375 degrees F. Remove from oven set on wire rack to cool.
Note: Keep these bars refrigerated because of the cream cheese content. I think they taste better when cooled anyway!