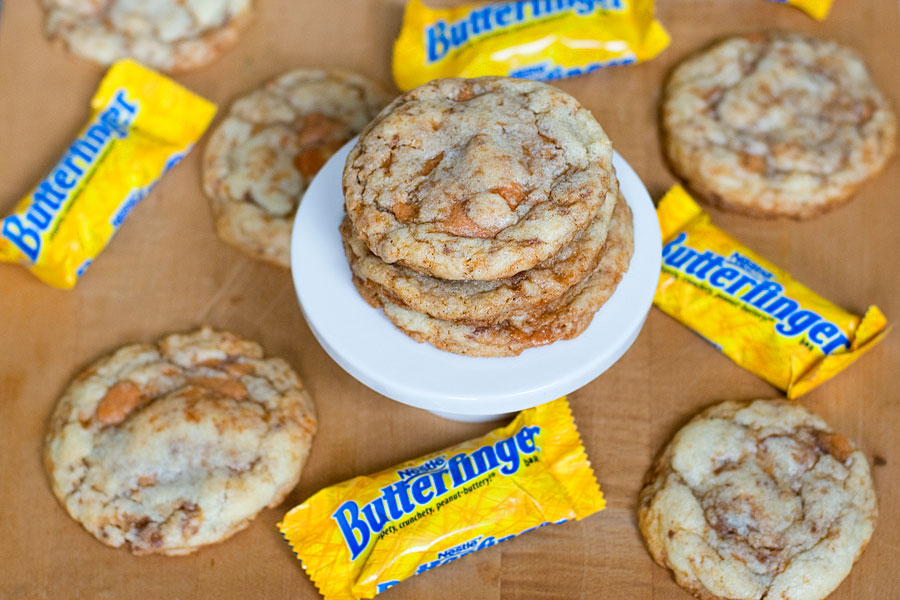 Raise your hand if you are still working through your extra Halloween candy! I certainly am. And I can't just have it sitting around otherwise I'll eat it all. Butterfingers are one of my favorites. Love the flavor, love the faux chocolate they are coated with, and love the fact that they'll always remind me of Bart Simpson. I found a great (and very simple!) recipe to help me get rid of these extra candy bars. Hope you enjoy!
Butterfinger Cookies
Recipe source: Sally's Baking Addiction
Print Recipe
1 and 3/4 cups all-purpose flour
3/4 teaspoon baking soda
1/4 teaspoon salt
3/4 cup granulated sugar
1/2 cup (1 stick) salted butter, softened
1 large egg
8 fun sized Butterfinger candy bars, chopped
1. Preheat oven to 375F degrees.
2. Combine flour, baking soda, and salt in small bowl and set aside.
3. With an electric mixer, beat sugar and butter until creamy. Beat in egg until just combined.
4. Gradually beat in flour mixture. Stir in Butterfinger pieces by hand. The dough will be very thick.
5. Drop by slightly rounded tablespoonfuls onto a parchment-lined baking sheet. Bake for 10-12 minutes or until slightly browned. Allow to cool completely.