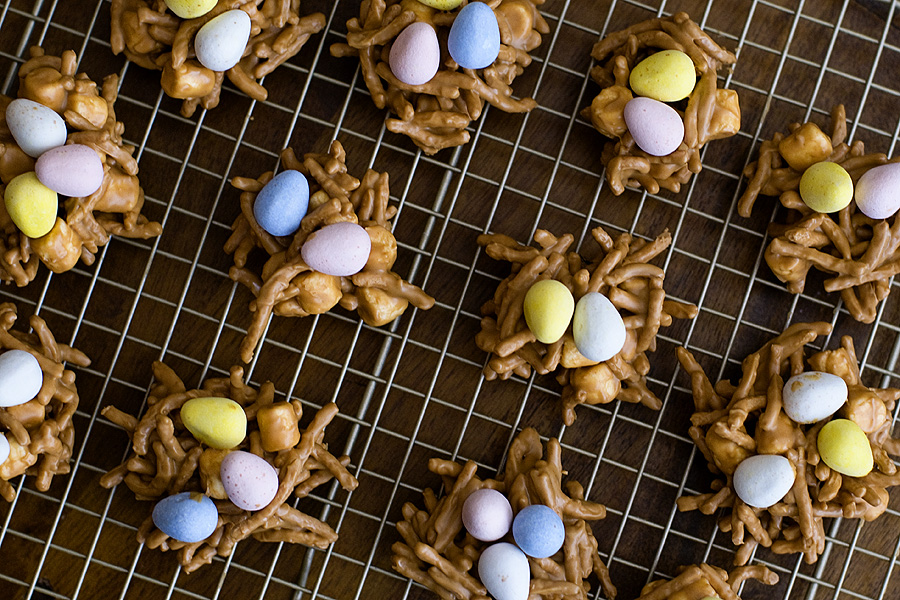 My favorite thing about the Easter season? CADBURY MINI EGGS. They have a strong hold over me, I am powerless against them and their creamy, smooth chocolate covered in a delicious crispy shell. Really. I love them and look forward to buying them every year. Other things that I love? Butterscotch and peanut butter. This recipe was made for me.
Butterscotch Birds' Nests
Recipe source: Gimme Some Oven
Print Recipe
1 (12 oz.) bag butterscotch chips
1 cup peanut butter
2 cups miniature marshmallows
6 oz. chow mein noodles
candy eggs, for decor
1. Line a cookie sheet (or two) with waxed paper.
2. In a double boiler, heat the chocolate chips until they are melted.  (You can also use the microwave for this step.  Be careful that they do not burn!)
3. Then stir in the peanut butter, and mix until it is melted and the mixture is smooth.  Add the chow mein noodles and marshmallows and continue stirring until everything is evenly coated.
4. Drop by spoonfuls onto the waxed paper & add candy eggs.  Let cool until they are hardened.