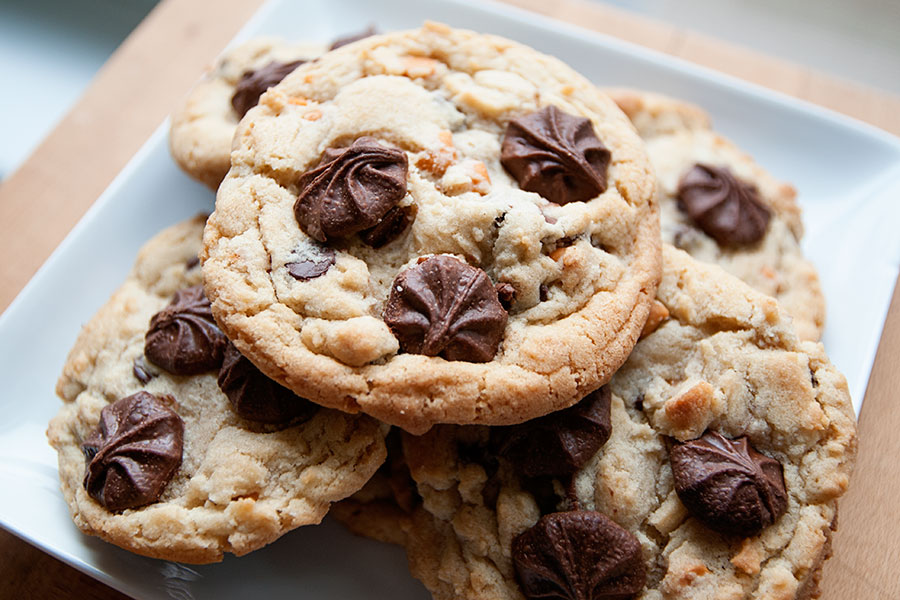 These cookies, or some version of them, have become my go-to recipe. I make these for my friends at school quite a bit because they always disappear within hours, which I take a sign of their deliciousness. The cookies are HUGE and you can make modifications to the original recipe to put a different twist on them. The original recipe involves a hint of cinnamon and a variety of chocolate chips. I changed these up a bit :) Enjoy!
Butterscotch Chocolate Star Cookies
Recipe modified from Cinnamon Spice & Everything Nice
Print Recipe
4 cups all-purpose flour
1 teaspoon baking powder
1 teaspoon baking soda
1 teaspoon salt
1-1/2 cups (3 sticks) butter, softened
1-1/4 cups granulated sugar
1-1/4 cups packed brown sugar
2 large eggs
1 tablespoon vanilla extract
3/4 cup chocolate stars
3/4 cup semi-sweet chocolate chips
3/4 cup butterscotch chips
Plus extra chocolate stars for the top of each cookie
1. Preheat oven to 375° F. Line 2 cookie sheets with silpats or parchment paper.
2. In a large bowl whisk flour, baking powder, baking soda, and salt.
3. In a large separate bowl beat butter with both sugars together on low until creamy about 1 minute. Beat in eggs and vanilla extract.
4. Gradually beat in flour mixture 1/4 at a time. Stir in all the chocolate chips.
5. Drop dough by level 1/4 cups 2 – 3 inches apart onto the baking sheets. [I used an ice cream scoop for this – it worked great!] Place 3 or 4 chocolate stars on the top of each scoop of dough [this is optional, but it makes the cookies look prettier when they come out of the oven]
6. Bake for 12 – 14 minutes or until light golden brown around the edges. Cool on baking sheets for 5 minutes then remove to wire racks to cool completely.
Store in tightly covered containers in a cool, dry place up to 5 days. Makes about 24 large cookies.