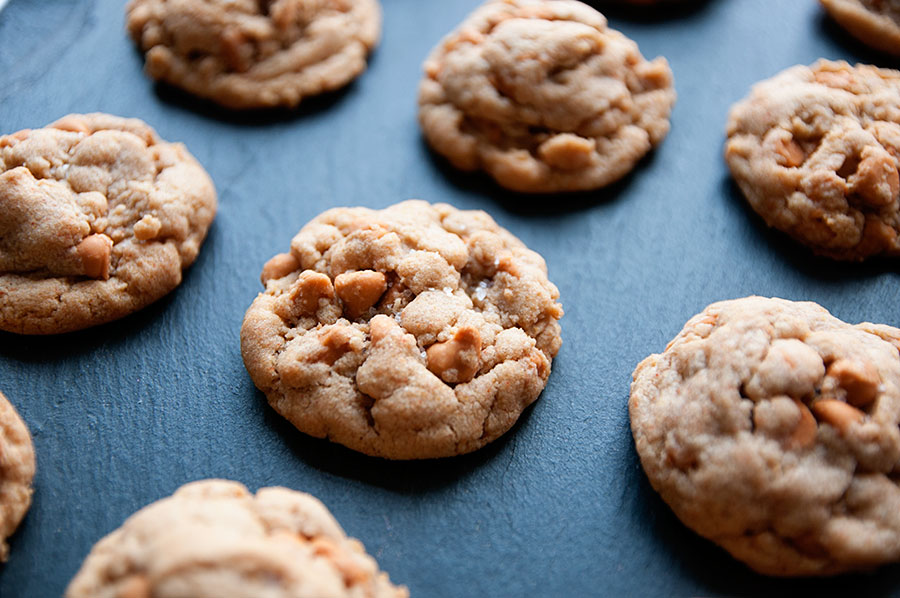 Mmmmm butterscotch. Butterscotch is amazing, right? The butterscotch dilly bars are the best. Those little butterscotch disk candies are addicting. And let's be real, I could (and do) eat butterscotch morsels right out of the bag. These cookies were great because they were soft (thanks, pudding!), butterscotch-y, and a little salty — thanks to the much-needed addition of a sea salt.
And before someone comments (because I know it'll happen), I will say this: these are SWEET cookies. That is the very nature of butterscotch, ladies and gents. So if SWEETNESS isn't your jam, move on to a different cookie. :)
Butterscotch Pudding Cookies
Recipe source: Creme de la Crumb
Print Recipe
3/4 cup butter (one and a half sticks), softened
3/4 cup brown sugar
1/4 cup sugar
1 teaspoon vanilla
1 egg
2 cups flour
1 small (3.5 ounces) box instant butterscotch pudding mix (dry, not prepared)
1 teaspoon baking soda
1 bag butterscotch chips
Coarse sea salt
1. In a large bowl, cream together butter and sugars. Mix in vanilla and egg until smooth.
2. In a medium bowl whisk together flour, butterscotch pudding mix, and baking soda. Add dry mixture to wet ingredients and mix until combined. Stir in butterscotch chips. Cover and chill 1 hour.
3. Preheat oven to 350. Scoop about 2 tablespoons of dough and roll into balls. Place on lightly greased baking sheet at least 2 inches apart for spreading.
4. Bake 10-12 minutes. Immediately after removing from the oven, sprinkle cookies with coarse sea salt. Allow to cool completely on baking sheet. store in airtight container at room temperature.