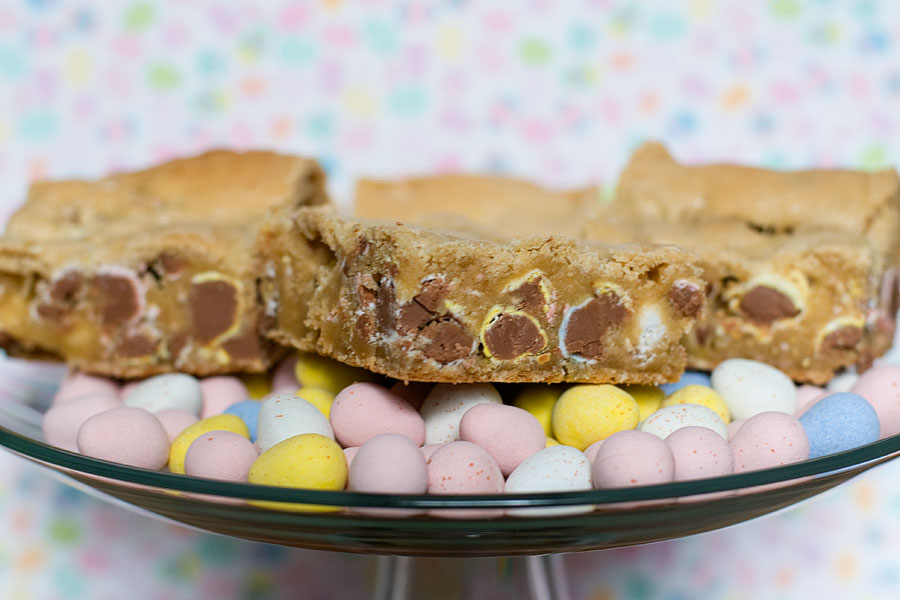 I think my favorite seasonal candy of all time is the Cadbury Mini Egg. They're just perfect. I'm sure I've rambled on and on for my love of this candy in previous years, but I can't help it. I will eat them by the handful and always look for recipes involving the yummy little eggs. Maybe one of these years I'll branch out and fall in love with a new Easter candy, but until then. . .
Cadbury Mini Egg Blondies
Recipe source: Bakeaholic Mama
Print Recipe
2 cups all-purpose flour
1/2 teaspoon baking soda
1/2 teaspoon salt
3/4 cup unsalted butter, melted
1 cup packed brown sugar
1/2 cup white sugar
1 tablespoon vanilla extract
1 egg
1 egg yolk
2 cups milk chocolate mini eggs
1. Preheat oven to 325F. Grease a 8×8 or 9×9 baking pan.
2. In a medium sizes mixing bowl sift flower, baking soda and salt together.
3. Melt butter over medium heat. Once melted add to the bowl of your electric mixer. Cream together with sugars.
4. Add in vanilla and eggs mix until creamy.
5. Slowly add in flour mixture until it is incorporated. Fold in mini eggs. [I crushed the mini eggs a bit – but you don't have to)
6. Spread batter into a greased 8×8 or 9×9 baking dish. Bake for about 40 minutes or until a tooth pick is inserted in the center and comes out clean. Let the bars cool for 30 minutes before slicing.