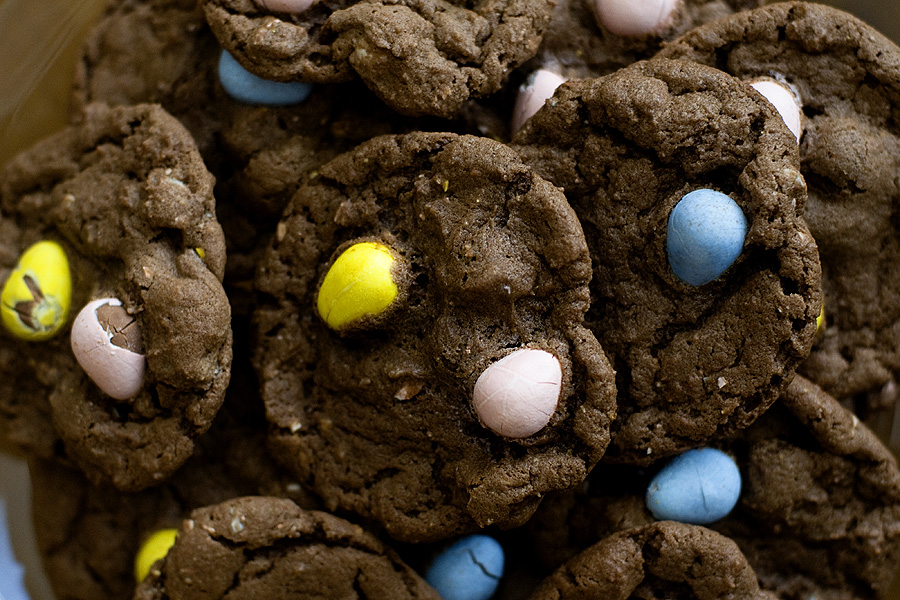 I'm not a religious person. I don't belong to a church. I don't have any particular attachment to Easter – except for the pretty colors, warmer weather, and CADBURY MINI EGGS. Honestly, what does Cadbury add to these little bites of goodness that make them so addictive? The crunchy shell. The rich chocolate. Perfection.
These cookies were delicious. Chewy in the middle. Crunchy on the outside. Filled with Cadbury Mini Egg bits and pieces. I wish it were easier to take photos of chocolate cookies without them looking dark and unappealing, but trust me: these cookies are divine.
Cadbury Mini Egg Cookies
Recipe source: OurBestBites.com
Print Recipe
1/2 cup Crisco
1/2 cup Butter
1 cup brown sugar
1 cup white sugar
2 eggs
1-1/2 teaspoons vanilla
1 teaspoon baking powder
1 teaspoon baking soda
1/2 teaspoon salt
2 1/2 cups flour
6 Tablespoons unsweetened cocoa powder
1 10 oz bag Cadbury Mini-Eggs
1. Preheat oven to 350.
2. Chop up the Cadbury Mini Eggs. Put them in a Ziplock bag and bang on them with a rolling pin until crumbled.
3. Cream together the butter, crisco, brown sugar and white sugar. Add in eggs one at at a time and the vanilla.
4. In a separate bowl whisk together the flour, soda, baking powder, salt, and cocoa powder. Add flour mixture to the butter mixture to combine and then mix in the candies.
5. Drop onto a cookie sheet and cook for about 8-10 minutes.  Remove to a cooling rack and try not to stuff them in your face to quickly.
Note: Save some whole mini eggs to place on top of the cookies before baking – it makes them look prettier!