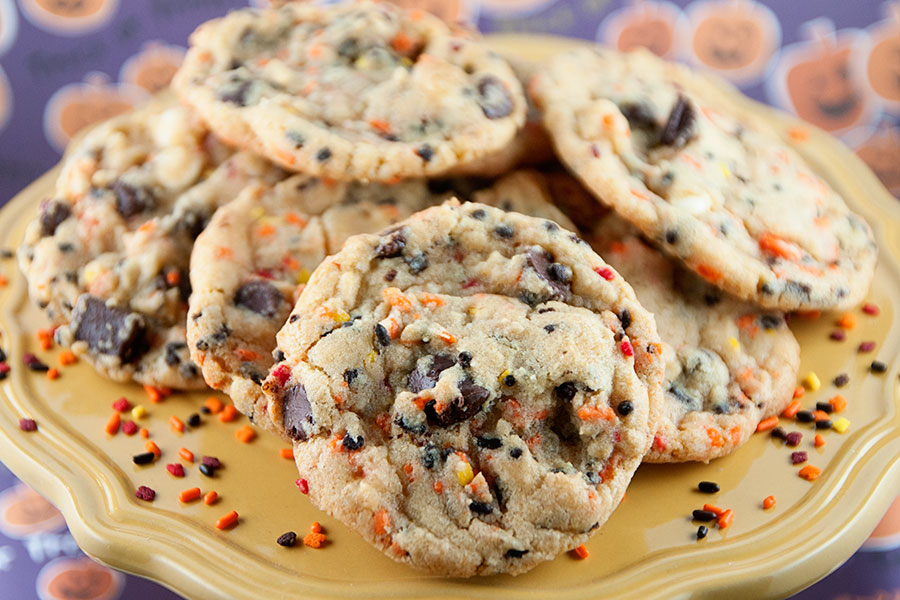 I've blogged this recipe before — but I'm back at it again because it's always such a huge hit. It's one of Sally's Baking Addiction's wonderful recipes and all I did was a little Halloween to the mix. But really. Make these cookies. Really. SO GOOD!
Cake Batter Halloween Cookies
Recipe source: Sally's Baking Addiction
Print Recipe
1-1/4 cups all-purpose flour
1-1/4 cups white or yellow boxed cake mix
1/2 teaspoon baking soda
3/4 cup unsalted butter, at room temperature
1/2 cup granulated sugar
1/2 cup light brown sugar
1 egg
1-1/2 teaspoons vanilla
1 cup chocolate chips (I used orange and black Halloween chips; plus a few chocolate chunks)
1/2 cup sprinkles (I found Halloween sprinkles at my local grocery store)
1. In a large bowl, sift together flour, cake mix, and baking soda. Set aside.
2. In a separate bowl, cream together the butter and sugars on medium speed. Mix in the egg and vanilla until creamy.
3. Add the flour mixture to the wet ingredients and mix until just combined. Do not overmix!
4. Fold in the chocolate chips and sprinkles.
5. Cover and refrigerate the dough for at least 1 hour. (I let sit overnight) You must do this refrigeration step otherwise the dough will be too sticky and the cookies will spread.
6. Preheat oven to 350F and line cookie sheets with parchment paper.
7. Scoop rounded tablespoons of the cold dough onto the cookie sheets. Make sure that the balls of dough are taller than they are wide (I'm not sure how this works, but it helps to make the cookies thicker and they will spread less).
8. Bake for about 10 minutes, or until the edges are golden brown. Allow the cookies to cool on the baking sheet for about 5 minutes, then transfer to wire racks for complete cooling.
Makes about 2 dozen cookies.