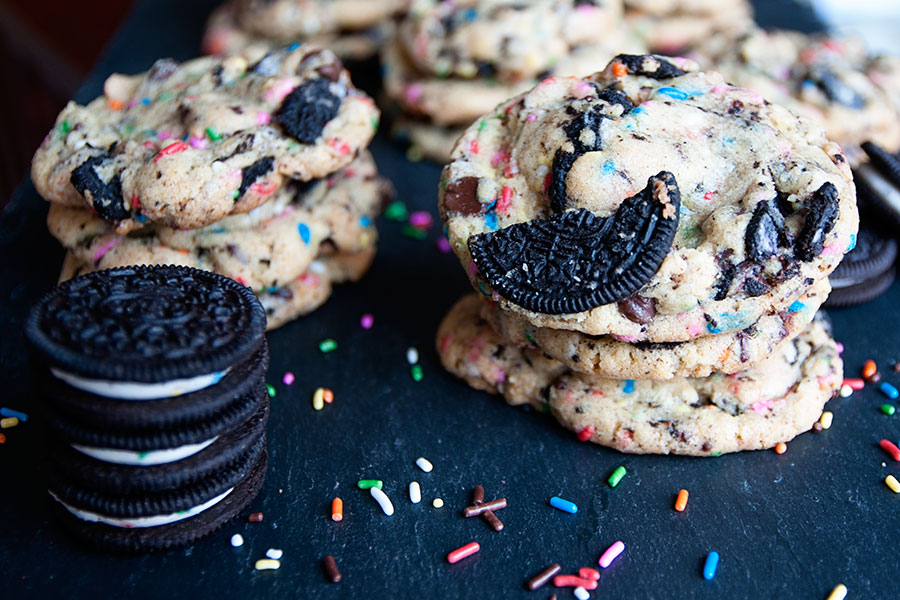 These cookies are pretty much identical to these, except for the addition of Oreos (which, come on, Oreos make everything better). I made these a few weeks ago and took them to school — nearly all disappeared within hours! Give them a try :)
Cake Batter (+ Oreo!) Cookies
Recipe source: Sally's Baking Addiction
Print Recipe
1 and 1/4 cups all-purpose flour
1 and 1/4 cups yellow or vanilla boxed cake mix
1/2 teaspoon baking soda
3/4 cup unsalted butter, softened to room temperature
1/2 cup granulated sugar
1/2 cup light brown sugar
1 egg, at room temperature
1 and 1/2 teaspoons vanilla extract
2/3 cup semi-sweet chocolate chips
1/2 cup sprinkles
10 Oreos, crushed into pieces
1. In a large bowl, sift together flour, cake mix, and baking soda. Set aside.
2. Using a mixer, cream the softened butter and both sugars together on medium speed until smooth. Add the egg and mix on high until combined, about 1 minute. Scrape down the sides and bottom of the bowl as needed. Add the vanilla and beat on high until combined. Add the flour mixture to the wet ingredients and mix on low-medium speed until just combined. Add the chocolate chips, sprinkles, and crushed Oreos. Mix on low until the add-ins are evenly disbursed.
3. Cover tightly with plastic wrap and refrigerate the dough for at least 2 hours (I let mine sit overnight).
4. Preheat oven to 350F. Line two large cookie sheets with parchment paper. Scoop rounded balls of the cold dough onto an ungreased baking sheet. Use about 2 Tablespoons of cookie dough per cookie. Shape your cookie dough balls to be "taller" than they are wide.
5. Bake the cookies for 10-12 minutes until edges are slightly browned. Allow the cookies to cool on the baking sheet for 5 minutes and transfer to a wire rack to cool completely.
Makes about 2 dozen.