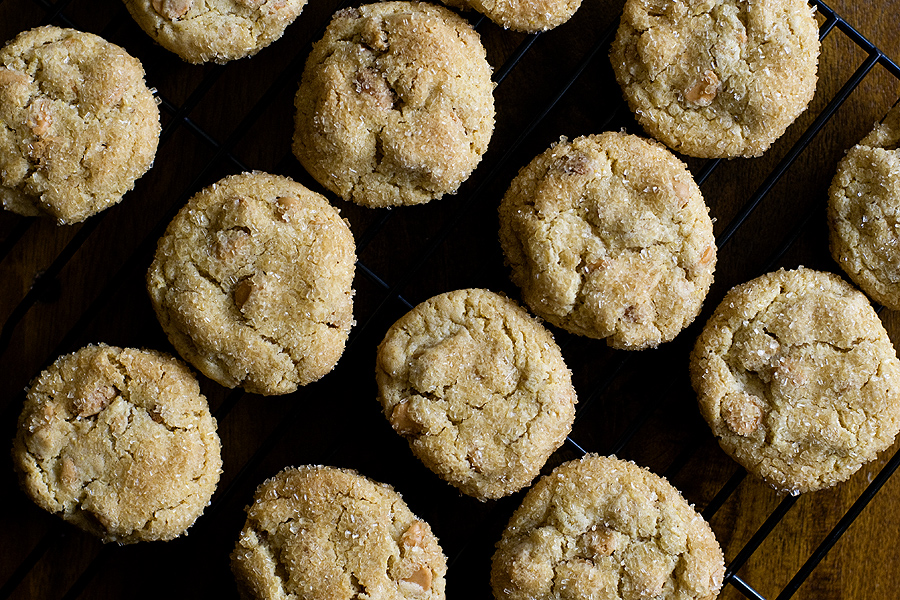 These cookies don't directly involves caramel corn… but have flavors to match! I was sold when I saw the words "butterscotch chips". :)
Caramel Corn Cookies
Print Recipe
1/2 cup shortening
1/4 cup butter, softened
1/2 cup granulated sugar
1/2 cup packed brown sugar
1/2 cup yellow cornmeal
1 teaspoon baking soda
1/2 teaspoon salt
1 egg
1/4 cup honey
1 Tablespoon vanilla
1-3/4 cups all-purpose flour
1 cup butterscotch chips
1/2 cup chopped honey-roasted peanuts
Coarse sugar or turbinado sugar
1. Preheat oven to 350F. Line cookie sheets with parchment paper.
2. In a large bowl, combine shortening and butter. Beat with an electric mixer on medium to high speed for 30 seconds. Add granulated sugar, brown sugar, cornmeal, baking soda, and salt. Beat until combined, scraping bowl occasionally. Beat in egg, honey, and vanilla until combined. Beat in as much of the flour as you can with a mixer. With a spoon, stir in any remaining flour, the butterscotch chips, and peanuts.
3. Place coarse sugar in a small bowl. Shape dough into 1-1/4 inch balls. Roll balls in coarse sugar to coat. Place balls about 2 inches apart on the prepared cookie sheet.
4. Bake for 8-10 minutes, or until tops are golden and edges are firm. Cool on cookie sheets for 2 minutes, then transfer to wire racks for complete cooling. Makes about 48 cookies.