First of all, happy birthday to my mom! She turns fiftysomething today! She's here in Chicago this weekend visiting me. Carrot cake is one of her favorite desserts, so I decided to make carrot cake cupcakes for her. Yummy: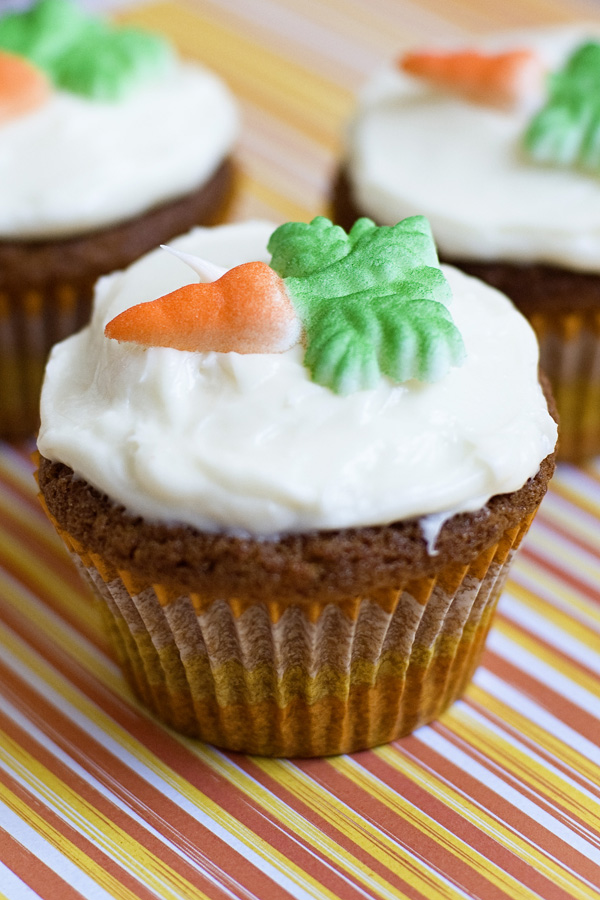 Actually, carrots are the only vegetable that I absolutely despise. So therefore, I'm not really a fan of carrot cake. But according to my mom, these things ROCK. The recipe is from Martha Stewart:
Carrot Cake Cupcakes
Print Recipe
1-1/2 cups flour, spooned and leveled
1 teaspoon baking powder
1/2 teaspoon baking soda
3/4 teaspoon salt
1/4 teaspoon ground cinnamon
1/4 teaspoon ground ginger
1/4 teaspoon grated nutmeg
3/4 cup unsalted butter, melted
1 cup packed light-brown sugar
1 large egg
2 tablespoons plain, low-fat yogurt
1/4 teaspoon pure vanilla extract
1-1/2 cups grated carrots
**Do not use the store-bought shredded carrots — they will not be moist enough. Buy whole carrots and use a food processor to chop them.
1. Preheat oven to 375F.
2. In a large bowl, whisk together flour, baking powder, baking soda, salt, cinnamon, ginger, and nutmeg; set aside.
3. In another large bowl, whisk together melted butter, brown sugar, egg, yogurt, and vanilla. Stir in carrots. Gradually add dry ingredients to the butter mixture until well combined. Divide among lined muffin tin.
4. Bake 25-30 minutes, rotating pan halfway through the baking time. Remove and cool on a wire rack. Makes 12 cupcakes.
Cream Cheese Frosting
1 package (8oz) cream cheese, room temperature
1/4 cup unsalted butter, room temperature
1 cup confectioner's sugar
1-1/2 teaspoons pure vanilla extract
1. Cream the butter and cream cheese using an electric mixer.
2. Gradually add confectioner's sugar until smooth and well-mixed; beat in vanilla.
And here's one more photo. Just because. Oh, and I got the carrot-shaped sugars at Delicious Creations in Hickory Hills, IL.