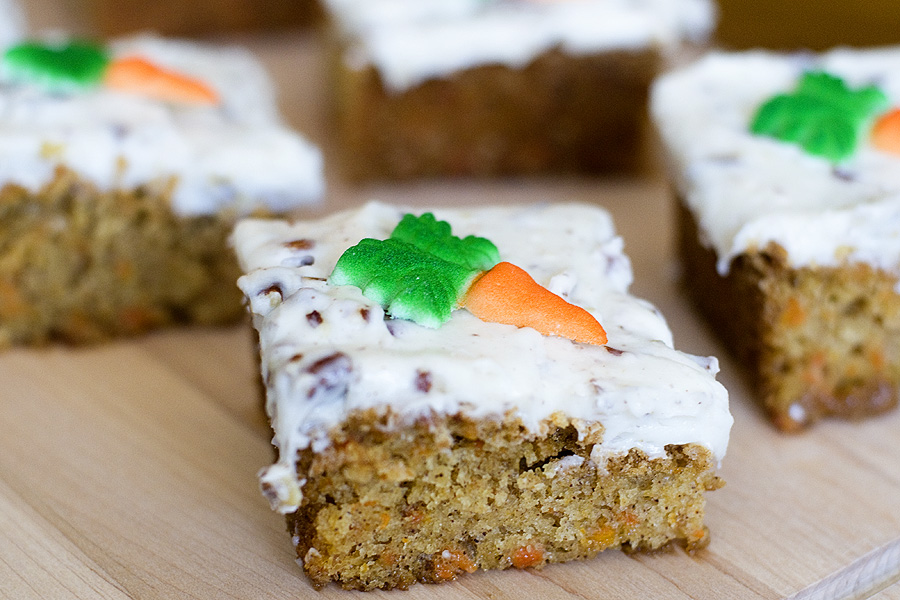 I will be honest: I hate carrot cake. Carrots are my least favorite vegetable. Pecans are not my favorite nut. And the combination of the two doesn't make it any better for me. But, it's springtime! It's the Easter season. Carrot cake is as much a part of spring as rain, flowers, pastel colors, and bunnies. And hey, I *do* love the cream cheese frosting!
Carrot Cake
Recipe source: Pioneer Woman
Print Recipe
2 cups sugar
1 cup vegetable oil
4 whole eggs
2 cups all-purpose flour
1/2 teaspoon salt
1 teaspoon baking soda
1 teaspoon baking powder
1 teaspoon ground cinnamon
2 cups grated carrots
For Icing:
1 stick regular butter, softened
1 package (8 oz) cream cheese
1 pound powdered sugar
2 teaspoons vanilla
1 cup pecans, chopped finely
1. Preheat oven to 350F
2. Mix together the sugar, oil and eggs in a large bowl. In another bowl sift together flour, salt, baking powder, baking soda and cinnamon. Add to first mixture and combine. Then add carrots and mix well.
3. Pour into a greased and floured pan (bundt, sheet cake, 9×13 pyrex) and bake at 350F until done, 25 (sheet cake) to 50 (Bundt pan) minutes, depending on the pan you use. Cool completely.
4. For the icing, in larger bowl, cream butter and cream cheese. Add sugar and vanilla and blend, then mix in the nuts. Spread on cooled carrot cake.