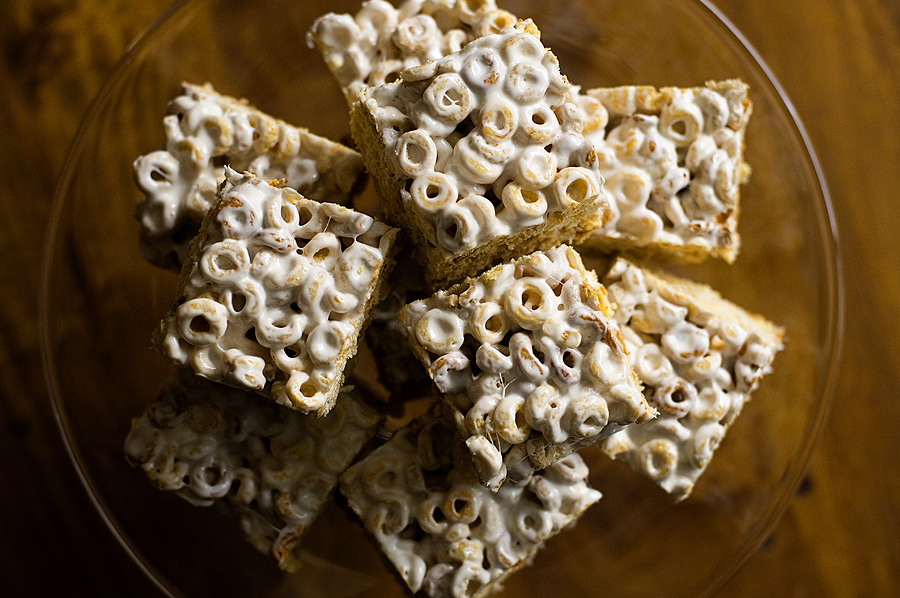 I'm a sucker for anything that resembles a rice krispie treat. The great thing about this recipe is that you can use any type of cereal. I used Multi Grain Cheerios — but you could try just about anything else. Honey Nut Cheerios would be delicious (as General Mills makes their own version of this treat — but it's full of artificial flavors and preservatives — so try making your own!). I also think Trix would be great, especially if you have kids that would love the color.
Cereal and Milk Bars
Recipe source: The Pastry Affair
Print Recipe
8 tablespoons (1 stick) salted butter
1 10.5-ounce bag marshmallows
6 cups cereal of your choice
1. Grease an 8-inch square pan. (I lined the pan with foil and then sprayed the foil with non-stick spray; it makes it super easy to lift the bars out of the pan)
2. In a large pot over medium heat, melt the butter. To brown it, keep the butter on the heat until it turns brown and smells nutty. The butter will foam and turn golden before beginning to brown. Stir frequently, scraping the bottom. Keep an eye on the butter – it can burn easily.
3. Once the butter is browned, turn the heat off and stir in the marshmallows. Add the cereal once the marshmallows are smooth and stir until evenly coated.
4. Spread the cereal into the prepared pan. Press the cereal down. Let cool and cut into squares.
Milk Glaze
1/2 cup nonfat dry milk powder
1 tablespoon powdered sugar
2 teaspoons water
In a small bowl, mix together the milk powder, powdered sugar, and water until the powder has dissolved completely. Spread or drizzle on top of the cereal bars. Store in an airtight container at room temperature.