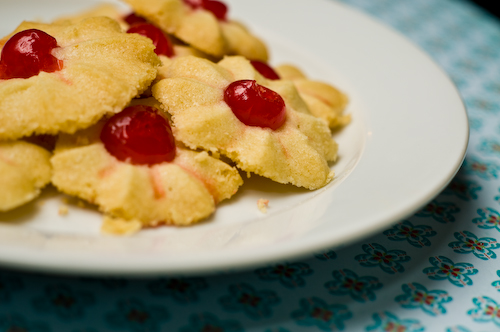 In my opinion, cherries and almonds have very similar flavors so if you put them together, all the better. The dough I used for this cookie is nice because it comes togther in a snap, can be flavored however you want and, because it is piped, can be shaped a number of ways. Here I used a 1/2″ diameter star tip to pipe star directly onto the cookie sheet. The texture of these cookies are similar to that of those wonderful Danish butter cookies you get in those cheap tins at Christmas: that melt-in-your-mouth, buttery, sandy cookie. However, I must admit that mine came out too delicate (translation = crumbly…hoooo), likely beacuse I wasn't very careful in measuring out my flour. In truth, many of them barely survived the move off the cookie sheet by the time I man-handled them with my spatula. I suspect I had too great a butter to flour ratio. ..Also, like any true butter cookie, leave plenty of room between cookies because they will spread a bit. This is advice I wish I'd follow more often than I actually do! Anywho, the taste is too good not to try again!
Cherry Almond Butter Cookies
Print Recipe
3/4 c. butter, softened
1/4 c. sugar
1 tsp. almond extract
1/2 tsp.  salt
2 tsp. milk
1 1/4 c. flour
~ 1 c. maraschino cherries, halved and well-drained
Directions:
Preheat oven to 325 oF. Beat butter and sugar together. Blend in salt and extract. Mix in flour and milk (if necessary) to form a smooth, pipeable dough.
Transfer dough to a piping bag fitted with a 1/2″ star tip. Pipe 1 1/2″ wide stars onto ungreased cookie sheet, leaving ~3 inches of space in between. Press a cherry half into the center of each cookie
Bake 20 – 25 minutes (depending on how large you piped your cookies), until edges brown slightly.
Leave cookies to set on cookie sheet, transferring to container when completely cooled.