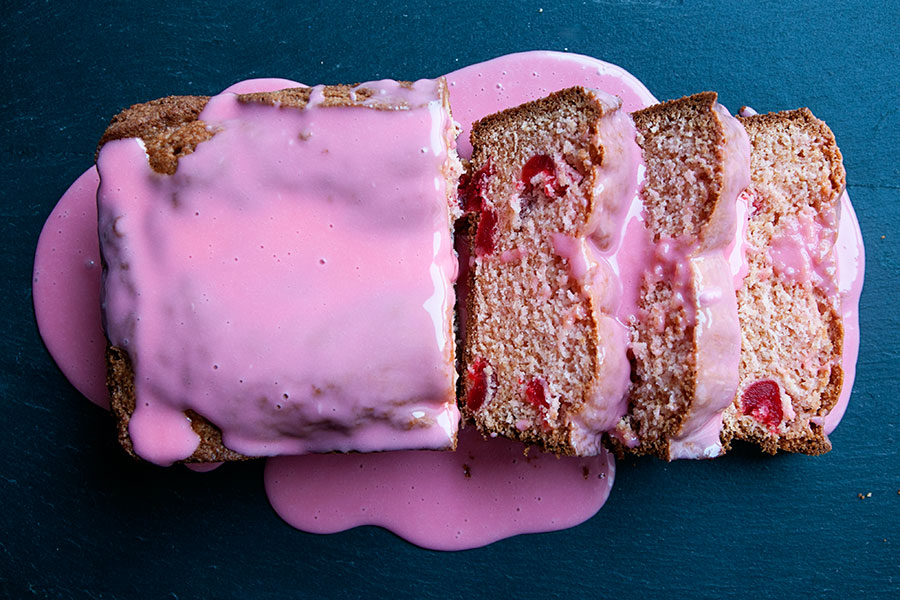 I recently read Jim Gaffigan's new book, "Food: A Love Story." It's a wonderful, funny, and quick read that I would highly recommend. There were so many lines that I wanted to highlight because I agreed so strongly with them. One of these lines is this: "Nobody really wants fruit. We only act like we do. A false desire for fruit is oven into the fabric of our culture. We are told that Adam and Eve were kicked out of paradise for eating an apple. An apple? Would an apple ever really tempt you? I would've look at the serpent, 'An apple? Uh, cover it in caramel and come back to me. You got any cake back there?'"
I like fruit, don't get me wrong. But fruit needs to get the hell out of my sugary treats and baked goods! I will always choose something chocolate-y over something fruity. Always. My one exception to this rule is anything having to do with cherries. I. Love. Cherries. So. Much. When I saw this recipe for cherry bread (with a cherry glaze — oooh, glazes are so good), I had to try it. And please don't let the fact that the glaze looks like Pepto throw you off (it's the curse of that particular shade of pink, right?) — it was amaaaaaaazing!!
Cherry Bread
Recipe source: Averie Cooks
Print Recipe
Bread:
One 10-ounce jar maraschino cherries, divided
2 tablespoons all-purpose flour
1 3/4 cup all-purpose flour
1 cup granulated sugar
2 teaspoons baking powder
Pinch salt, optional and to taste
2 large eggs
1/2 cup canola or vegetable oil
Cherry juice, reserve 1/4 cup
1 teaspoon almond extract
1 teaspoon vanilla extract
Cherry-Almond Glaze:
1/4 cup reserved cherry juice
1 teaspoon almond extract
About 1 1/2 cups+ confectioners' sugar
1. Preheat oven to 350F. Spray two 8×4-inch loaf pans with floured cooking spray or lightly grease and flour the pans; set aside. Recipe may be baked in one 9×5 pan, as 4 mini loaves, or as muffins, although I have not tested it that way. Adjust baking time accordingly.
2. Remove cherries from jar and place on a cutting board. Roughly chop them.
3. Sprinkle with 2 tablespoons flour (prevents them from sinking during baking) and toss to coat evenly; set cutting board aside. Set jar with the cherry juice aside.
4. In a large mixing bowl, add 1 3/4 cups flour, sugar, baking powder, optional salt, and whisk to combine; set aside.
5. In a small mixing bowl or glass measuring cup, combine eggs, oil, all the cherry juice from the jar except 1/4 cup to be reserved for the glaze, almond extract, vanilla extract, and whisk to combine.
6. Pour wet mixture over dry ingredients and stir to combine; don't overmix. Batter will be very thick. Lightly fold in the chopped cherries.
7. Turn batter out into the prepared pans, smoothing the tops lightly with a spatula.
8. Bake for about 40 minutes, or until bread is domed, set, springy to the touch, and a toothpick inserted in the center comes out clean, or with a few moist crumbs, but no batter. Allow bread to cool in pans on top of a wire rack for about 15 minutes before removing and allowing to finish cooling completely on rack. While bread cools, make the glaze.
9. In a medium bowl, combine 1/4 cup reserved cherry juice, almond extract, about 1 cup confectioners' sugar, and whisk to combine until smooth and satiny. Add sugar until desired consistency is reached. Glaze the bread prior to serving.