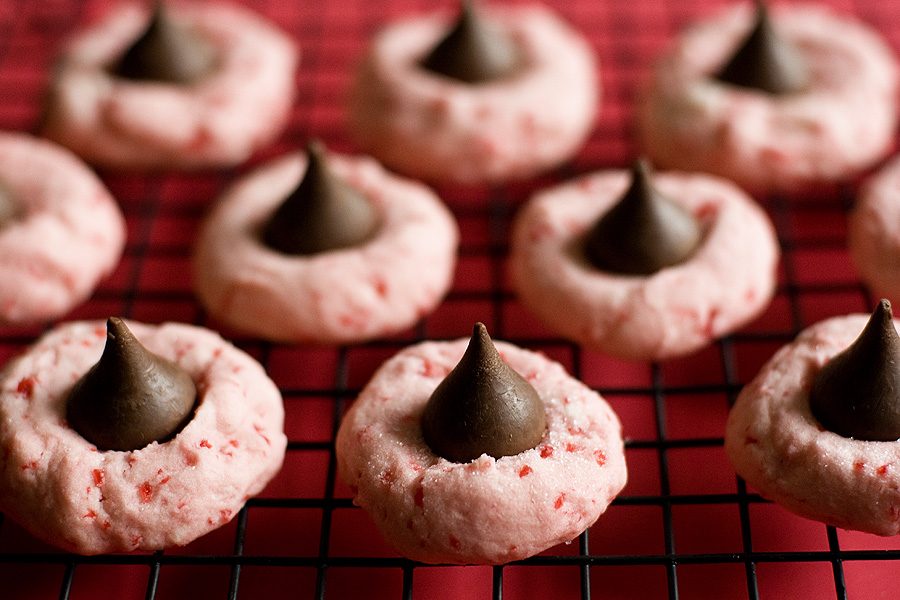 Welcome to Kiss Cookie week! I noticed that I had 5 recipes for different variety of kiss cookies, so I thought I'd make them all! Today's post is the first of many this week. I love cherries, especially those of the maraschino variety. This is likely because I have happy childhood memories attached to them — I drank myself silly on Kiddie Cocktails for many, many years. I love cherries, but I don't always love cherry-flavored foods. Isn't that weird how that happens? I LOVE bananas, but generally won't touch anything banana-flavored with a 10 foot stick (major exception being banana Runts). Anyway, cherries paired with CHOCOLATE are always delicious in my book.
Cherry Chocolate Kisses
Recipe source: The Curvy Carrot
Print Recipe
1 cup unsalted butter, softened
1 cup powdered sugar
1/8 teaspoon salt
2 teaspoons maraschino cherry "juice"
1/4 teaspoon almond extract
2-1/4 cups all-purpose flour
1/2 cup maraschino cherries, chopped
Granulated sugar, for sprinkling the cookies
~36 milk chocolate kisses, unwrapped
1. Preheat the oven to 325 degrees.
2. In the bowl of a stand mixer, beat the butter at medium speed until creamy, about 1 minute. Reduce the speed to the lowest setting and slowly add the powdered sugar and salt. Add the cherry juice and the almond extract until combined.
3. With the mixer still on low, slowly add the flour, scraping down the sides of the bowl as needed. Increase the mixer speed to medium and add the cherries.
4. Shape the dough into 1-inch balls, and place the balls on a parchment-lined baking sheet, approximately 2 inches apart. Using your thumb, gently press each cookie in its center until the cookie is about 1/2-inch thick. Sprinkle each cookie with a little granulated sugar.
5. Bake the cookies until the bottoms are lightly browned, about 14 minutes. Once removed from the oven, immediately press a chocolate kiss into each cookie's center. Transfer the cookies to a wire rack to cool completely.
Makes about 36 cookies.