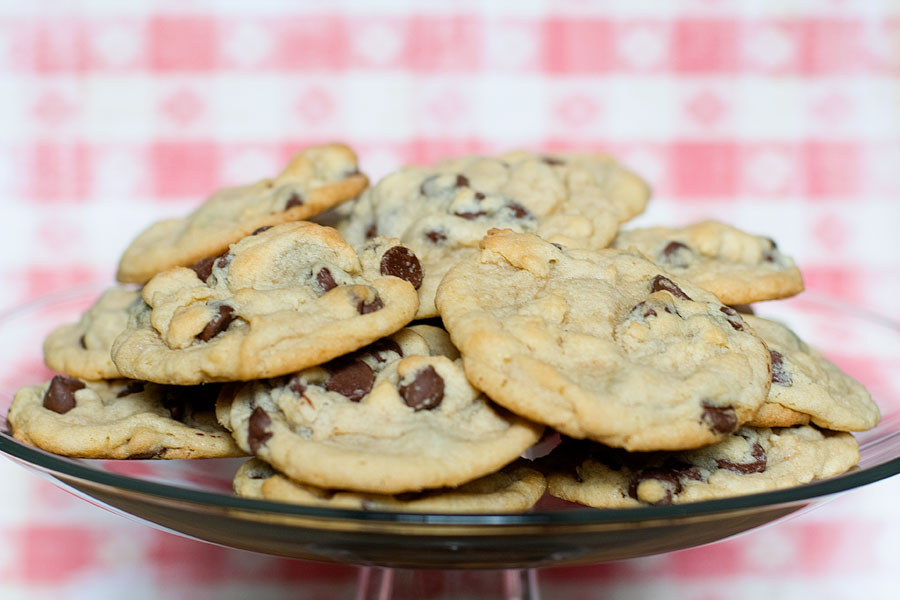 One of the trends lately seems to be chocolate chip cookie recipes involving cornstarch. I don't know if it's a trend or if I'm imagining it, but cornstarch seems to be everywhere lately! [and if you use it in your kitchen, it literally will be everywhere — ha!] But I was intrigued to try a recipe for the perfect, classic chocolate chip cookie that incorporates cornstarch. The selling point? Cornstarch will make your cookies chewier! Softer! Thicker! More magical!
Are all of those claims true? Yes! The cookies I made weren't really any thicker than usual – but they were definitely more soft and chewy. This is one trend that lives up to the hype.
Chewy Chocolate Chip Cookies
Recipe source: Sweetest Kitchen
Print Recipe
3/4 cup unsalted butter, softened
3/4 cup brown sugar
1/4 cup granulated sugar
1 egg
2 teaspoons vanilla extract
2 cups all-purpose flour
2 teaspoons cornstarch
1 teaspoon baking soda
1/2 teaspoon salt
1 cup bittersweet chocolate chips (or regular chocolate chips, either will work)
1. Preheat oven to 350F and line baking sheets with parchment paper.
2. Place flour, cornstarch, baking soda, and salt in a medium bowl and whisk to combine. Set aside.
3. In the bowl of a stand mixer, cream together butter and sugars until fluffy and light in color. Add egg and vanilla, mix in.
4. Mix in flour mixture on low speed. Stir in chocolate chips.
5. Using a tablespoon or a cookie scoop, drop dough onto parchment-lined baking sheets. Bake for 8-10 minutes or until barely golden around the edges. Don't let the cookies brown and do not bake longer than 10 minutes.
6. Remove from oven, let the cookies cool on the baking sheets for a few minutes, then remove to wire racks to cool completely.