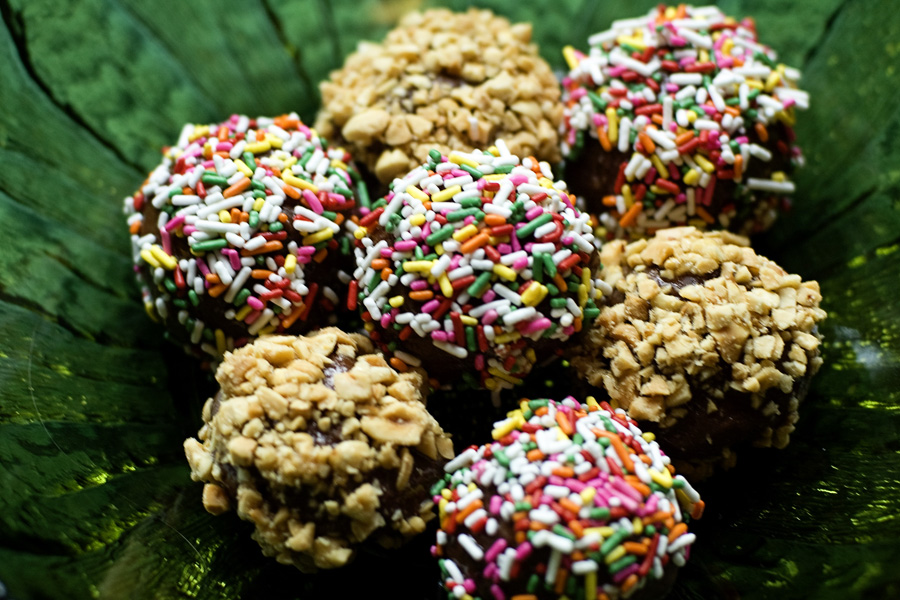 It is no secret that I LOVE Paula Deen. Her southern accent may be a bit much for this northerner to take, but I do enjoy her more-butter-is-better philosophy toward cooking. Who doesn't love butter? Val had pointed out Paula's chocolate CHEESE fudge recipe. It involves Velveeta cheese. Say what? I was skeptical. How can cheese — much less, VELVEETA, the anti-cheese — be good in fudge? Well guess what? It's amazing. Rich. Creamy. Delicious.
Velveeta Cheese Fudge Balls
Recipe source: Paula Deen
Print Recipe
1/2 lb. Velveeta cheese, sliced
1 cup butter
1 teaspoon pure vanilla extract
32 oz. powdered sugar
1/2 cup cocoa powder
1 cup chopped pecans, walnuts, or peanuts
1. Grease a 9×9 pan.
2. Melt cheese and butter over medium heat – stirring constantly.
3. Remove from heat and add vanilla.
4. In a large bowl, sift together sugar and cocoa. Pour cheese mixture into the sugar mixture. Stir until mixed — will be very stiff.
5. Press into the 9×9 pan and pat the top to remove excess oil. Refrigerate.
Here are my changes:
– I didn't use nuts, because I prefer my baked goods sans nuts.
– I watched Paula on Ellen Degeneres' show and she made fudge pops — and covered them with caramel and toppings. Genius idea — and a perfect excuse for me to use sprinkles!
– I formed the fudge into balls and placed them on wax paper BEFORE the refrigeration step.
– Once the fudge balls have stiffened (who knew I'd ever get to use the words "balls" and "stiffened" so often on this blog!), dip them in caramel and then in the toppings of your choice. I used sprinkles and chopped peanuts. You could also add a lollipop stick if you wanted a true fudge pop, but I didn't have any.
Enjoy!