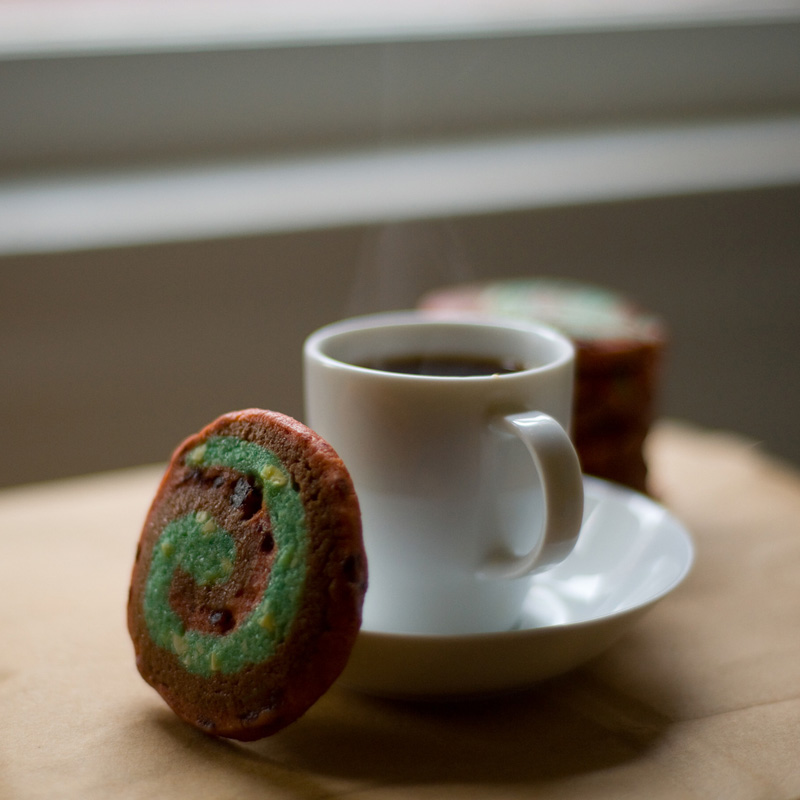 So, the inspiration for this recipe is from this one from Woman's Day. This recipe was supposed to have pistachios in place of almonds, but it seems that the Salmonella scare has eliminated all the pistachios in the Chicagoland area. Nevertheless, we press on, nobly tricking my coworkers into thinking these are pistachios using chopped slivered almonds and a bit of green food color. Actually, it didn't work. Don't get me wrong- they taste great but are definitely almond-y. Also, in hindsight, I probably would have substituted in chopped maraschino cherries for the dried ones as the freezing process turned them into little sticky pebbles when it came time to slice and bake. On the whole, pinwheel cookies aren't nearly as hard to make as they look, so don't be shy!
Chocolate, Cherry & Almond Pinwheels
Print Recipe
3/4 c. butter, softened.
1 c. sugar
1 tsp. baking powder
1 egg
1 egg yolk
2 1/2 c. flour
1 oz. semi-sweet chocolate, melted
1 tsp. almond extract
red and green food color
1/4 c. dried cherries, chopped
1/2 c. slivered almonds, chopped
Directions:
Cream together first 5 ingredients. Add in flour til dough just forms.
Divide dough into 3 portions. Stir chocolate into one third, cherries and red food color to desired shade into another third, and almond extract, almonds and green color to desired shade into remaining third. If dough is too sticky to handle easily, add flour until it becomes more manageable.
Roll out each third between 2 sheets of wax paper into a rectangle ~ 1/4″ thick. Peel off top paper from 2 layers and gently sandwich them together, overlapping as much as possible. Repeat with last layer. Remove top sheet again and trim edges to a rectangle. Gently, roll dough from short end of rectangle into a cylinder, wrap in wax paper and freeze until firm (~1 hour). Rotate position in freezer every so often to avoid getting a 'flat' side on the dough roll.
Preheat oven to 350 oF. Unroll dough and slice 1/4″ thick pieces off log with a knife. Coax slices into uniformly thick disks if necessary. Place onto ungreased baking sheet and bake for 11 – 14 minutes. Let rest on pan til firm and then transfer to cooling rack.