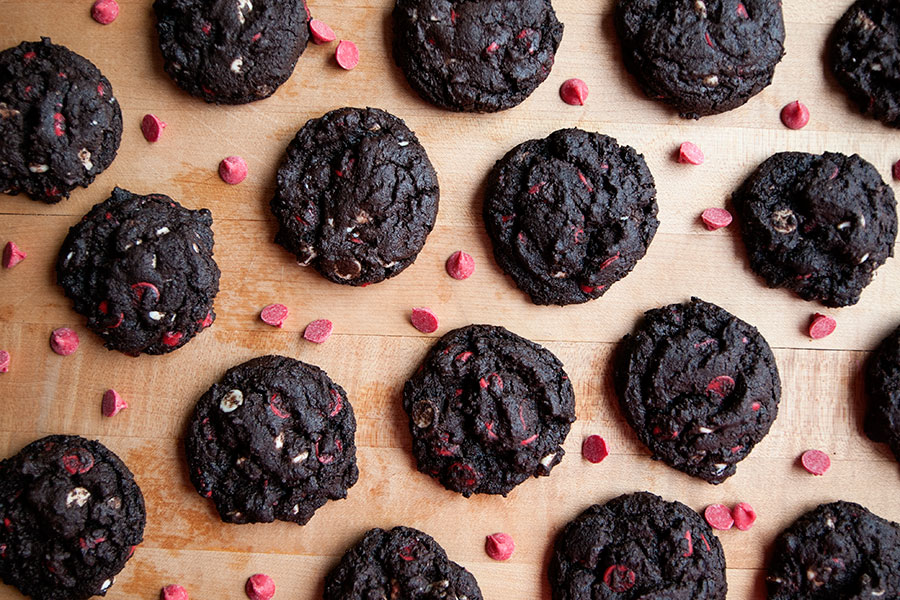 I feel a little sorry for chocolate cookies. They are hard to photograph and just aren't as beautiful as their non-cocoa powdered counterparts. But oh man, they are so delicious (see also my chocolate mint chip cookies from a few years ago!). This is the last of the cherry chip recipes for a while — I finally used them all up!
Chocolate Cherry Chip Cookies
Recipe source: Lovin' from the Oven
Print Recipe
1 cup butter
1 cup white sugar
3/4 cup brown sugar
2 eggs
1 teaspoon vanilla
1-3/4 cups flour
1-1/4 cups cocoa powder (I used Rodelle)
2 teaspoons baking soda
1/4 teaspoon salt
1 bag of cherry chips
1-1/2 cups white chocolate chips
1. Preheat oven to 350 degrees.
2. Cream together the butter and sugars until light and fluffy. Slowly add eggs and vanilla until well combined.
3. Gradually mix in the flour, cocoa, baking soda and salt.
4. Fold in white chips and cherry chips.
5. Using a medium cookie scoop, drop by rounded spoonfuls onto the prepared cookie sheet. Bake for 9-11 minutes.
Makes about 3 dozen cookies.