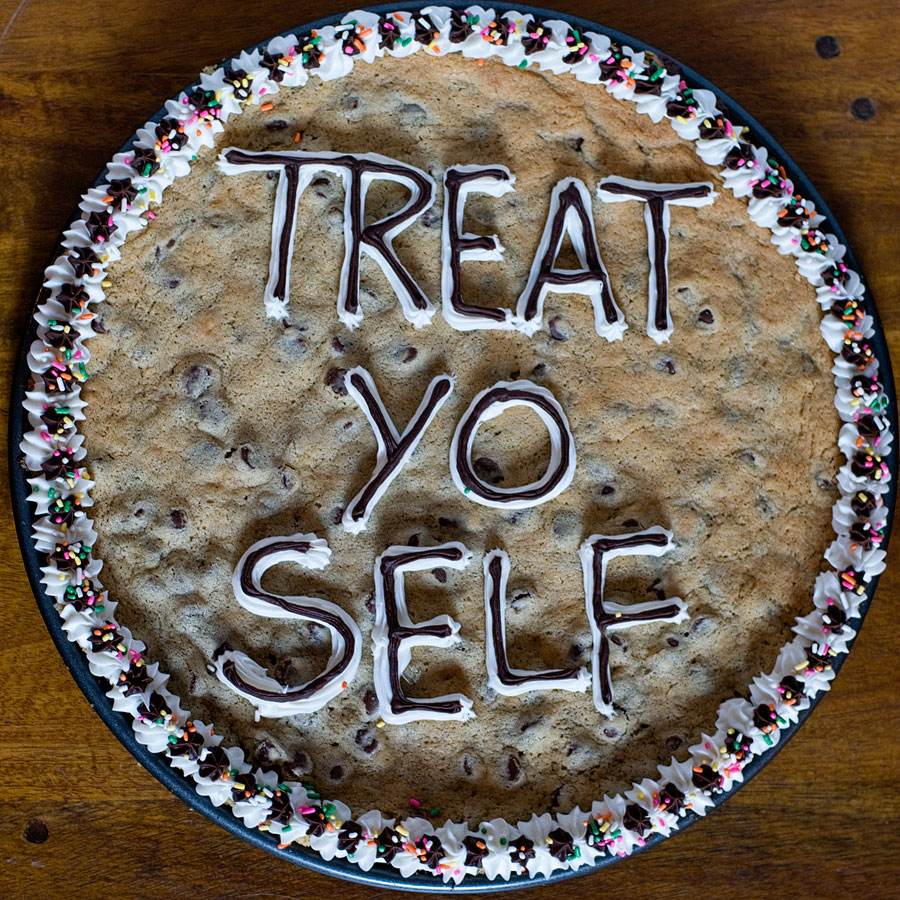 You guys. This cookie cake was to…die….for. It was reminiscent of a cookie cake from the Great American Cookie Company – but without the preservative aftertaste! Whenever I see a cookie cake I always think of the episode of Sex and the City where Miranda's near-perfect [but not perfect for her] boyfriend gives her a gigantic chocolate chip cookie that says "I Love You." She couldn't say the words back to him and ate the entire cookie just to make the problem disappear.
I didn't know what I write on this cookie cake or how to decorate it, so I resorted to a line from my favorite TV show, Parks and Recreation. Treat yo self! The show is back for its 5th season starting tonight, so be sure to watch. I can't wait for Ron Swanson to return to my life.
Chocolate Chip Cookie Cake
Recipe source: dineanddish.net
Print Recipe
1 cup butter
1/2 cup sugar
2/3 cup brown sugar
2 eggs
1 teaspoon vanilla
2 cups flour, plus 4 tablespoons flour
1 teaspoon salt
1 teaspoon cream of tartar
1 teaspoon baking soda
2 cups semi-sweet chocolate chips
1. Beat butter and sugars together.
2. Add eggs and vanilla.
3. Mix flour, salt, baking soda, and cream of tartar.
4. Add dry ingredients to the batter and mix until well blended.
5. Stir in chocolate chips.
6. Spread dough into a 15 1/2 inch round pan.
7. Bake for 20 minutes at 350 degrees.
*I decorated the cake with store-bought frosting. You could always make homemade buttercream if you'd rather use that.