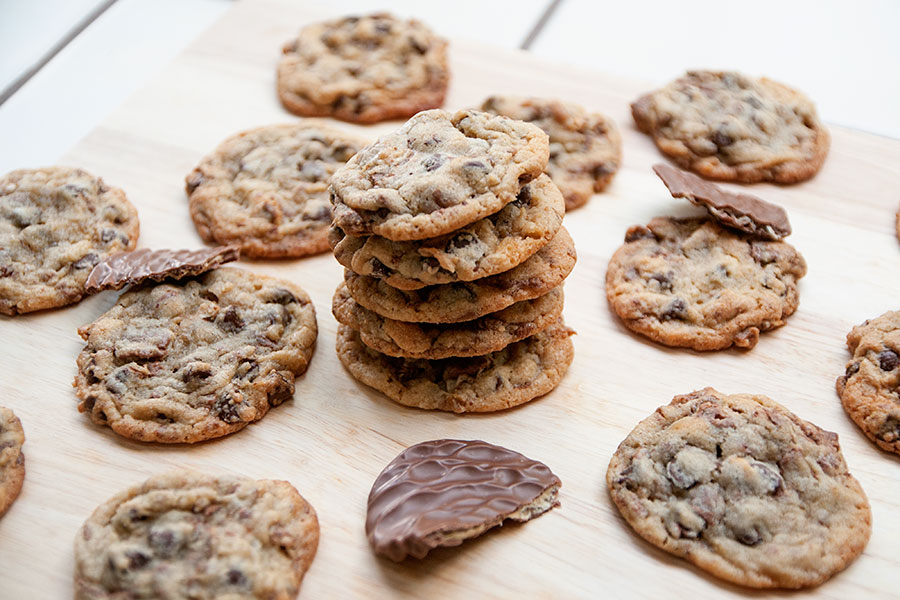 Potato chips are a big deal in my family, as we used to own and operate a potato chip factory. I've been surrounded by chips since I came out of the womb. While the factory has been closed for twenty plus years, I still love potato chips. LOVE THEM. I've featured potato chip cookies twice on this blog — here and here. I've also professed my love for chocolate-covered potato chips. Seriously — try them! The combination of salty + sweet is great.
Today's cookies combine chocolate chip cookies and chocolate-covered potato chips — and to give you an indication of how good they were, they disappeared from the office by 9:30am!
PS: It's my Dad's birthday today — and I know he reads my blog religiously. Happy Birthday, Dad! I love you!
Chocolate Covered Potato Chip Cookies
Recipe source: Call Me PMC
Print Recipe
1/2 cup butter
1/4 cup granulated sugar
3/4 cup brown sugar, packed
1 large egg
1/2 Tablespoon vanilla extract
1 1/4 cup all-purpose flour
1/4 teaspoon baking soda
1/4 teaspoon baking powder
1/4 teaspoon salt
1 cup chocolate chips
1 cup crushed chocolate-covered potato chips [instructions here]
1. Cream butter with sugars until fluffy. Add egg and beat well. Add vanilla and combine.
2. Combine flour, baking soda, baking powder and salt. Add to mixing bowl and mix until combined.
3. Add the chocolate chips and the potato chips. Fold in until evenly distributed.
4. Chill the dough for at least 30 minutes. [I chilled mine for 2 hours]
5. Preheat oven to 350F when ready to bake.
6. Use a cookie scoop to place balls of dough onto a parchment-lined cookie sheet. My balls of dough were about 1-1/2 Tablespoons in size.
7. Bake the cookies for about 10 minutes, or until the edges have turned golden brown. Remove from oven and cool on the cookie sheet for about 5 minutes, then transfer to a wire rack for complete cooling.