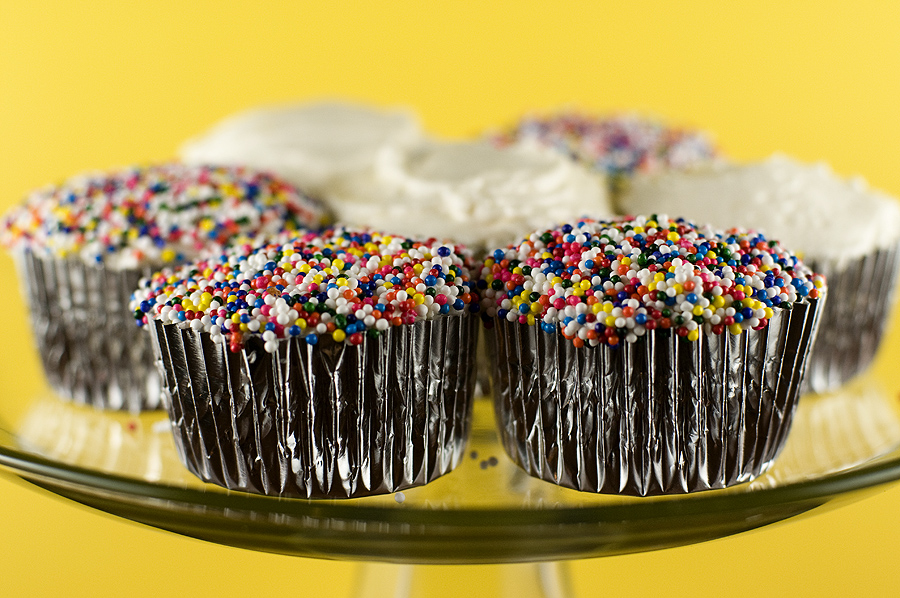 I've had cooked frosting on my to-make list for a while now. I was always so intrigued by it — a frosting that is made with milk and FLOUR and HEAT? What..the…f? I will admit that I was hesitant to make it because I've heard mixed reviews. Apparently people either love it or hate it. Nothing in between. It ranks up there with mayonnaise or coconut on the list of polarizing foods. Here's my verdict on cooked frosting: it's different.
My opinion is smack dab in the middle of love and hate. I'm a political moderate, so it's no surprise that I'm a baking moderate as well. Here's what I like about it: it's not super sweet. I find buttercream frosting to be way too sweet most of the time, too overwhelming. Cooked frosting isn't super sweet. Here's what I didn't like about it: it's got a whipped consistency. I'm not a fan of whipped foods – whipped cream? No. Whipped frosting? Nah.
But I strongly recommend trying it yourself. You could very easily join the ranks of the LOVE IT camp! I would also recommend pairing the frosting with either chocolate cake or chocolate cupcakes. It's a great flavor combination.
Chocolate Cupcakes
Recipe source: Adapted from The Pioneer Woman
Print Recipe
2 cups sugar
2 cups all-purpose Flour
¼ teaspoons Salt
½ cups buttermilk
2 whole eggs
1 teaspoon baking soda
1 teaspoon vanilla
2 sticks butter
4 Tablespoons (heaping) cocoa powder
1 cup water, boiling
1. Preheat oven to 350 degrees. Line muffin cups or spray with baking spray.
2. Combine flour, sugar, and salt. Set aside.
3. In a separate container, combine buttermilk, eggs, baking soda, and vanilla. Stir to combine and set aside.
4. In a saucepan, melt butter over medium heat. Add cocoa powder and stir to combine. Add boiling water, allow to bubble for a few seconds, then turn off heat.
5. Pour chocolate mixture over flour mixture. Stir a few times to cool the chocolate. Pour buttermilk mixture over the top and stir to combine.
6. Fill muffin cups 2/3 full. Bake for 20-22 minutes, or until a tester comes out clean. Allow to cool for 5 minutes in the pan, then remove and allow to cool on a baking rack.
Cooked Frosting
Recipe source: Tasty Kitchen
5 Tablespoons flour
1 cup milk
1 teaspoon vanilla
1 cup butter
1 cup granulated sugar (not powdered sugar!)
1. In a small saucepan, whisk flour into milk and heat, stirring constantly, until it thickens. You want it to be very thick, thicker than cake mix, more like a brownie mix is. Remove from heat and let it cool to room temperature. It must be completely cool before you use it in the next step. Stir in vanilla.
2. While the mixture is cooling, cream the butter and sugar together until light and fluffy. You don't want any sugar graininess left. Then add the completely cooled milk/flour/vanilla mixture and beat the living daylights out of it. If it looks separated, you haven't beaten it enough! Beat it until it all combines and resembles whipped cream.
3. Frost your cupcakes!