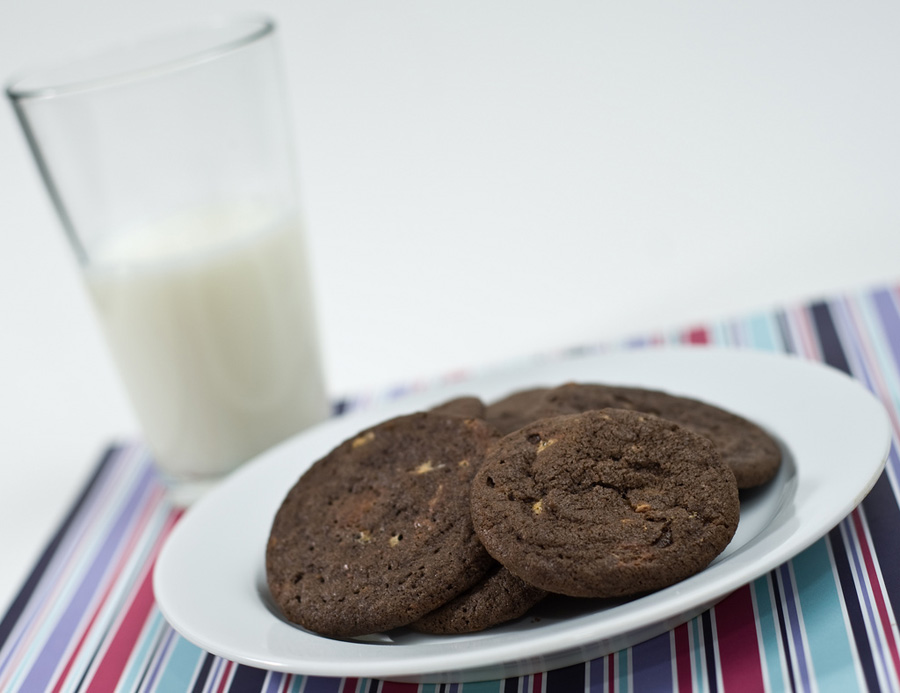 I love malted milk balls and I thought they would be awesome in a cookie. Turns out, so did other people, as a quick search on recipezaar.com turned up this recipe. I was disappointed, however, that the dough wasn't chocolate, which I thought was the obvious choice. So I came up with a chocolate version which is posted below. These cookies achieve that perfect crunchy-crumbly texture and are extra chocolate-y. Next time, I might leave out the milk balls altogether- when they are baked, they deflate and become little hard nuggets in the cookie, which, although the taste is that of delicious milk balls, the texture is kind of a distraction in the context of the cookie.
Chocolate Malt Cookies
Print Recipe
1 c. butter, softened
3/4 c. brown sugar
1/2 c. granulated sugar
1 egg
1/2 tsp. salt
1 tsp. baking soda
2 c. flour
1/4 c. cocoa powder (I used Hershey's Special Dark)
3 Tbsp. malted milk powder (I used Carnation's)
2 c. chopped malted milk balls
Directions
Preheat oven to 325 oF.
Cream the butter and the sugars. Add the egg, salt and baking soda and beat until well combined. Stir in dry ingredients until just incorporated. Fold in candy. Dough should be stiff.
Drop by generous rounded tablespoons onto ungreased cookie sheets with ~3 inches of space in between. Bake 15-16 minutes. Let cool on cookie sheets until set before transferring to cooling racks.