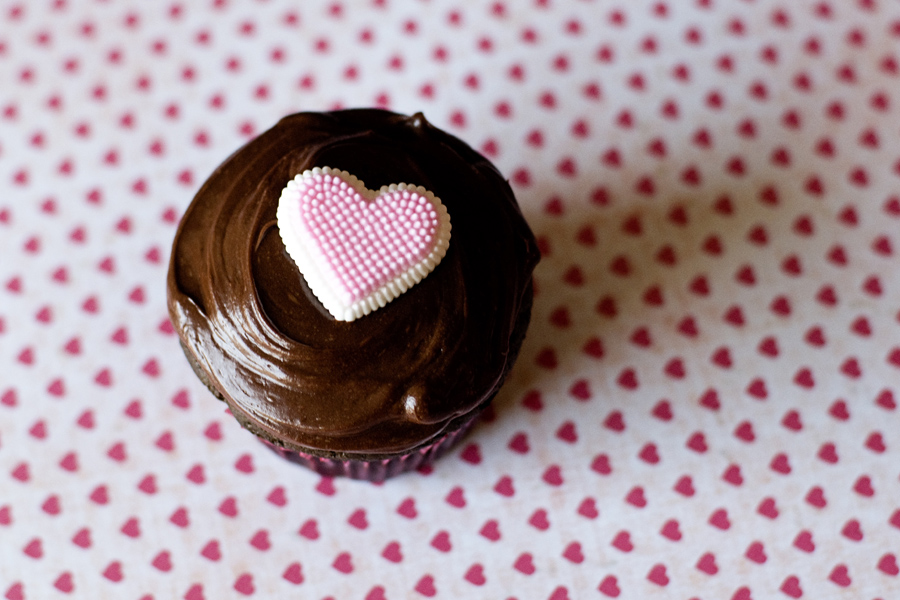 Happy Valentine's Day!
This recipe belongs to my dear friend Amber, who runs Bluebonnets & Brownies. She has RAVED about this chocolate cake recipe. Although, it's got a bit of a twist — it features mayonnaise and coffee as two of its main ingredients! Now, if you are skittish about either of those foods, don't worry. Really, don't. You can't even taste the coffee or the mayo – all you taste is moist, delicious, EASY, homemade chocolate cake. Mmmm.
Chocolate Mayonnaise Cake
Recipe Source: Amber Bracegirdle of Bluebonnets & Brownies
Print Recipe
2 cups all purpose flour (for cupcakes, add 2 extra tablespoons of flour)
1 cup sugar
6 tablespoons cocoa (for cupcakes, add 1 more scant tablespoon of cocoa powder)
1/4 teaspoon salt
2 teaspoons baking soda
1 cup mayonnaise – no substitutes
1 cup cold coffee
1 teaspoon vanilla
1. Preheat oven to 350F.
2. Sift together dry ingredients – set aside.
3. In mixing bowl combine mayonnaise, cold coffee and vanilla – add sifted dry ingredients, incrementally. Beat until smooth – scraping sides of bowl often.
4. Pour into greased and floured 9 x 13 pan or 12 count muffin pan with paper cups. Bake 25 to 35 minutes. Do not over bake.
I frosted the cupcakes with store-bought chocolate frosting, but Amber has a GREAT recipe for ganache to go along with this recipe.