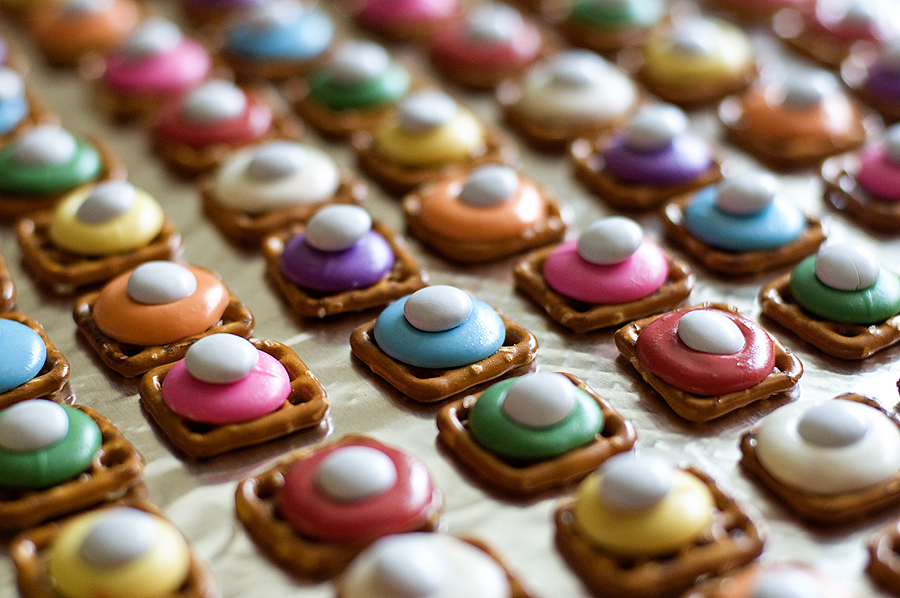 I think this was the fastest recipe I've ever made. From start to finish, it took me about 10 minutes to make all of these. Super easy and quick treat — and kids will love them because of the colors! The only downfall was the huge amount of pretzels and M&Ms I ate while assembling them… yummy!
Yield: Makes MANY!
Candy Melt Pretzel Bites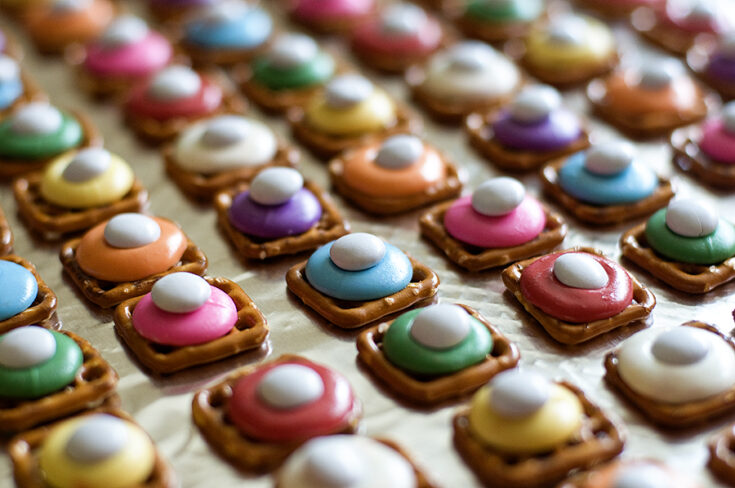 A FAST and EASY treat for your next get-together!
Ingredients
1 bag of pretzel squares
1 bag of candy melts, Hershey Kisses, or Rolos (I used a variety pack of candy melts)
1 bag of M&Ms (I used white M&Ms that I had leftover from Christmas!)
Instructions
1. Preheat oven to 350F and line a cookie sheet with aluminum foil.

2. Lay out as many pretzels as you'd like to make. I filled the entire cookie sheet.

3. Place a candy melt (or Hershey Kiss, Rolo, etc) on top of each pretzel square.

4. Put the entire cookie sheet into the oven. The baking time will vary depending on what type of candy you choose to use, but the baking time will be QUICK! It took about 1-1/2 minutes for the candy melts on these to soften. Watch them in the oven as they heat up to insure that they don't melt entirely or burn.

5. Remove from the oven and immediately place an M&M on top of each pretzel. Let all of the pretzel bites cool thoroughly before serving. Enjoy!
Notes
These are a fantastic treat that your kids or grandkids can help you make. You can change the ingredients and colors to make them seasonal. For example, use all orange and purple candy melts near Halloween.