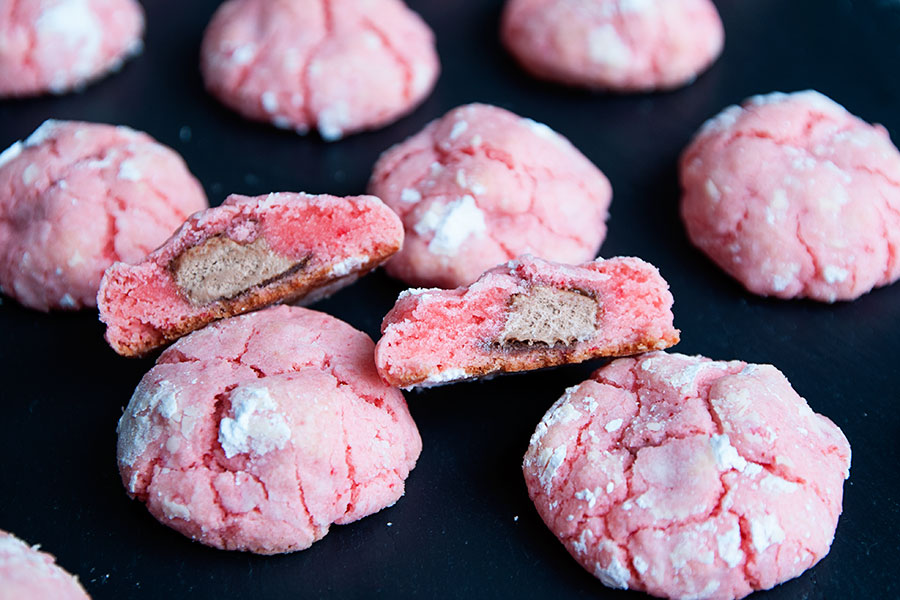 This lovely recipe comes from my dear friend Amber's blog, Bluebonnets & Brownies. I love Amber, her cute family, her love of Disney, and her consistently great recipes. But I will be honest: I'm not a huge fan of strawberry-flavored foods. Love me some strawberries, but something always goes awry for me with strawberry flavoring. These cookies though? Ohhh my goddddd. I loved 'em! Really and truly.
Chocolate-Stuffed Strawberry Crinkle Cookies
Recipe source: Bluebonnets & Brownies
Print Recipe
1 box Pillsbury "Pudding in the Mix" Strawberry Cake Mix
2 large eggs
1/3 cup vegetable oil
1 teaspoon pure vanilla extract
1/3 cup powdered sugar
18 "fun-size" Three Musketeers Candies, frozen
1. Freeze a bag of "fun-size" Three Musketeers Candies for at least 2 hours.
2. Preheat the oven to 375F and line a baking sheet with parchment paper.
3. In a large bowl, combine the cake mix, eggs, oil, and vanilla extract. Stir vigorously with a spatula until will blended.
4. Place the powdered sugar into a separate small bowl, then unwrap 18 frozen Three Musketeers.
5. Using a medium cookie scoop or tablespoon, shape a dough ball, and then drop it into your hand. Press a frozen chocolate into the ball of dough and then roll it in your hands until the chocolate is completely enrobed in cookie dough. The dough will be sticky.
6. Drop balls of dough into the powdered sugar sugar and roll to coat heavily.
7. Place the balls of dough on the parchment lined baking tray 2 inches apart. Bake for 9-11 minutes.
8. The middles of the cookies may look slightly undercooked when removed from the oven. That is okay. They will continue to cook as they cool. Allow to cool for 5 minutes in the pan, then remove to a cooling rack to finish cooling completely.
Makes about 18 cookies.