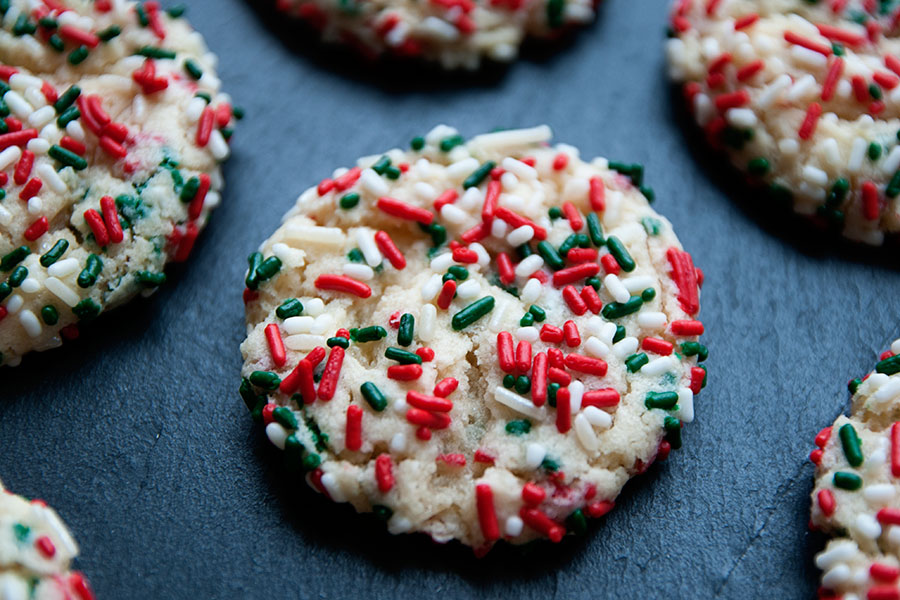 I will freely admit that I made and posted these cookies last month. But they are SO GOOD that I decided to make a batch for the Christmas season. The only modification was to find red, green, and white jimmies! I said this in my previous post, but these cookies have become one of my favorites — which should be obvious, as I've made them twice in the span of a month :)
Christmas Confetti Cookies
Recipe source: Joy the Baker
Print Recipe
1-1/2 cups all-purpose flour
1 teaspoon baking power
1 teaspoon cream of tartar
1/2 teaspoon baking soda
1/2 teaspoon salt
1/2 cup (1 stick) unsalted butter, at room temperature
3/4 cup sugar
1 vanilla bean (I didn't have one, so I left it out; the cookies turned out fine!)
1 large egg
1 teaspoon pure vanilla extract
About 1 cup of Christmas sprinkles (use jimmies, not nonpareils)
1. In a medium bowl, whisk together the flour, baking power, cream of tartar, baking soda, and salt.
2. In the bowl of an electric mixer fitted with the paddle attachment, beat the butter and sugar at medium speed until light and fluffy. Split the vanilla bean and scrape the seeds into the bowl (I skipped this step). Add the egg and vanilla extract, and beat until thoroughly combined.
3. Reduce the mixer speed to low and slowly add the dry ingredients to the wet ingredients. The dough will be thick. Fold in 1/4 cup of the sprinkles.
4. Put the remaining 3/4 cup of sprinkles in a small bowl. Scoop up 2 Tablespoons of dough and roll it into a ball (I used a cookie scoop and it worked well!). Dip the ball into the bowl of sprinkles to cover lightly. Put the ball on a plate. Repeat with the remaining sprinkles and dough, and chill the balls of dough for at least 2 hours.
5. Preheat oven to 350F. Line two baking sheets with parchment paper.
6. Transfer the chilled balls of dough onto the baking sheets, leaving about two inches between each ball.
7. Bake until the cookies have spread and are just beginning to brown around the edges, but are mostly pale and soft — about 10 minutes. Let cool on the cookie sheets for 5 minutes before transferring to wire racks to cool completely.
Makes about 18 cookies.