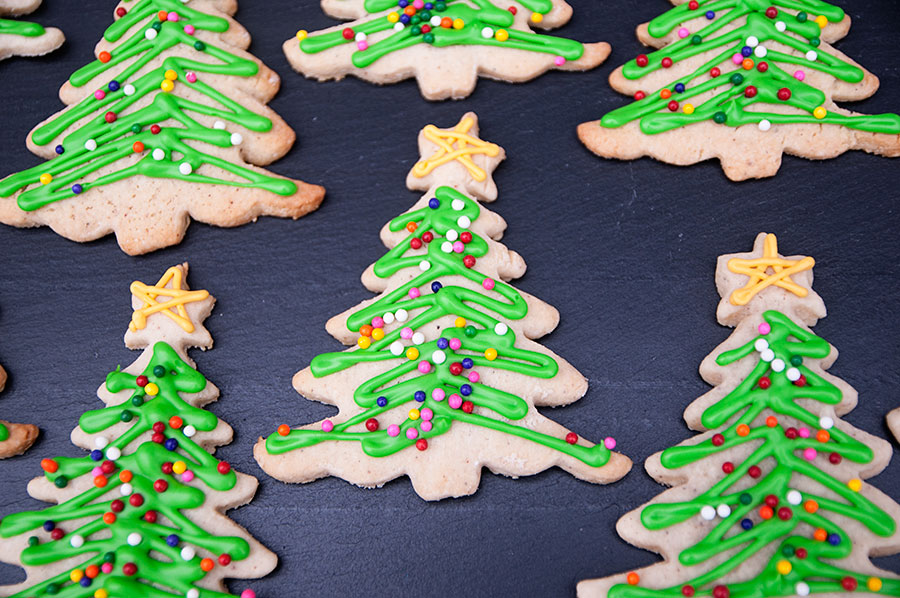 Holy shiz, it's December 17th and I'm just now blogging for Christmas! Better late than never, right? *blinks* Right?
These cookies were pretty easy to make — no outlining, no flooding involved! If you are a new to decorating with royal icing, here are some helpful tips and links:
I used my grandma's sugar cookie recipe, which is listed below.  Another good cut-out cookie recipe can be found at Bridget's wonderful Bake at 350.
I used a royal icing recipe from Annie's Eats, which is listed below
Here are the specifics on how I made these cookies:
I found this cookie cutter on sale at Williams-Sonoma a few years ago. I was pretty excited to find it because of its unique tree shape.
I dyed the majority of my royal icing green using Wilton's Leaf green gel coloring. I reserved a small amount of icing for the stars and used Wilton's Buttercup get coloring.
I piped the branches and stars using a small round tip. The small round sprinkles were found at Hobby Lobby — and I believe they were a Wilton product.
That's it — easy, right?
Omi's Sugar Cookies
Print Recipe
1 cup butter
1 cup sugar
1 large egg
1/2 teaspoon salt
3 cups flour
1 teaspoon baking soda
1/2 cup sour cream
1 teaspoon nutmeg
Beat butter and sugar. Add eggs, sour cream, and nutmeg. Add dry ingredients gradually. Chill the batter overnight or for at least 4 hours. Roll out dough and cut with cookie cutters. Bake at 350F until golden (in true fashion, my grandma didn't give a specific baking time. I baked the cookies for about 8 minutes).

White Royal Icing
4 cups powdered sugar, sifted
2 Tablespoons meringue powder
5 Tablespoons water
Directions:
Combine all ingredients in the bowl of a stand mixer fitted with the paddle attachment. Mix on low speed until the sheen has disappeared and the icing has a matte appearance (about 7-10 minutes).  Transfer the contents of the mixing bowl to an air-tight container. This will be the stiffest consistency of the icing, and at this point it is still too stiff to use for decorating. Add water a very small amount at a time and stir by hand until fully incorporated. Continue until the icing has reached a consistency appropriate for piping.