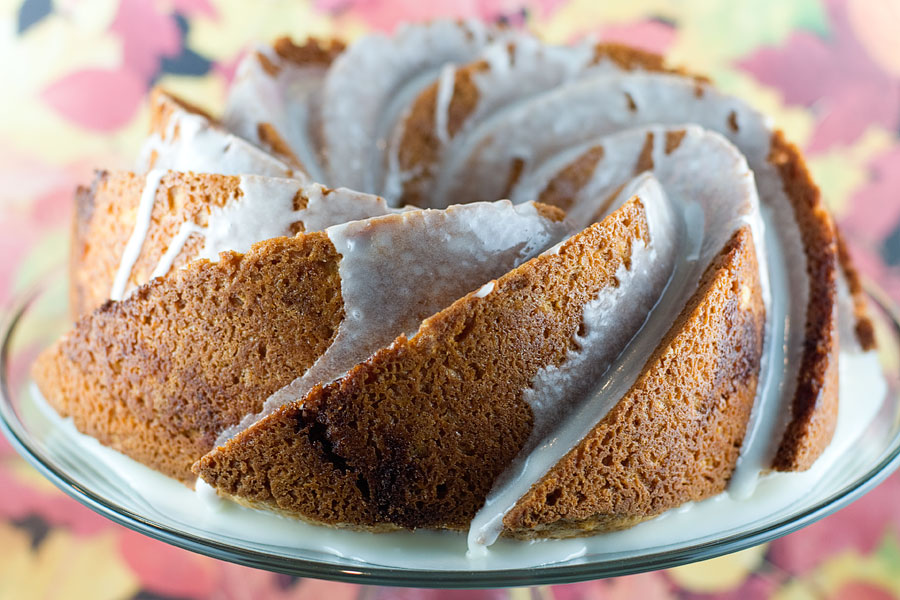 It's November! Yay! I mark November as the beginning of the coziest time of the year. The last two months of the year contain my favorite holidays and more warm 'n' fuzzies than I can handle. While I love cinnamon rolls, I do not love how involved they are to make. I always wish there could be an easier way — a faster version. Well here's the answer: a cinnamon roll bundt cake. And this baby was AMAZING. It was easy to make (mix a bunch of stuff up and pop it in the oven for an hour) and tasted just like a cinnamon roll. . . minus the yeast!
Cinnamon Roll Bundt Cake
Recipe source: Bake or Break
Print Recipe
For the cake:
2 cups all-purpose flour
1-1/4 cups granulated sugar, divided
2 teaspoons baking powder
1/2 teaspoon salt
1 3-ounce box instant vanilla pudding mix
1/2 cup unsalted butter, softened
1/4 cup vegetable or canola oil
4 large eggs
2 teaspoons vanilla extract
1 cup sour cream
1 tablespoon cinnamon
For the filling:
1/2 cup packed brown sugar
1 tablespoon cinnamon
1/2 cup pecans, chopped
For the glaze:
2 cups confectioners' sugar
3-4 tablespoons heavy cream
1 teaspoon vanilla extract
1. Preheat oven to 350°. Spray a 9- or 10-cup Bundt pan with non-stick spray.
2. In a large mixing bowl, whisk together flour, 1 cup sugar, baking powder, salt, and pudding mix.
3. Add butter, oil, eggs, vanilla, and sour cream. Mix well. Dough will be thick.
4. In a separate bowl, mix 1/4 cup sugar and cinnamon. Gently fold into the cake batter. Do not mix thoroughly, but leave swirls of cinnamon sugar in the batter.
5. Transfer half of the cake batter to prepared pan.
6. To make the filling: Mix brown sugar, cinnamon, and pecans. Sprinkle over the batter in the pan. Scoop remaining cake batter over the filling and smooth the top.
7. Bake cake 45-50 minutes, or until a pick inserted into the center comes out clean. Cool in pan on a wire rack for 20 minutes. Then, flip the cake onto a wire rack to cool completely.
8. To make the glaze: Mix confectioners' sugar, 3 tablespoons of cream, and vanilla until smooth. Add more cream as needed to make glaze pourable. Drizzle glaze over cake.