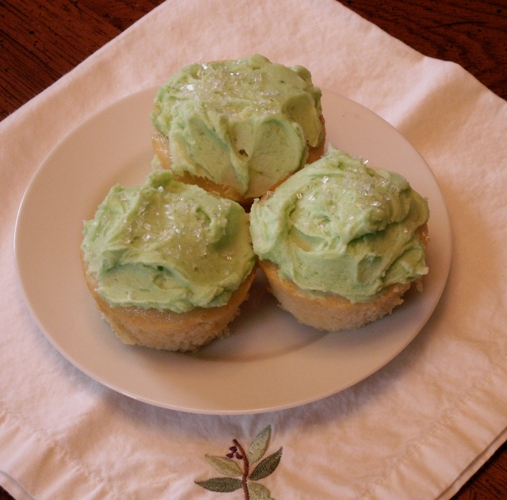 Today's post is a guest post by my lovely sister-in-law, who is also lethally-infected by the cupcake bug. Enjoy!
"These are cupcakes to celebrate spring. They are from the May 2009 issue of Cooking Light, and the picture looked so good I just had to try them. Those who know me well know that buttercream frosting is one of my weaknesses, and this particular frosting certainly did not disappoint! I was so sure I would love it – who doesn't like tart, sweet, and buttery? – that I made 1 ½ times the frosting so my cupcakes would each have a generous crown."
Coconut Cupcakes with Lime Buttercream Frosting
Print Recipe
Cooking spray
4.5 ounces all-purpose flour (about 1 cup)
3 tablespoons potato starch
1 teaspoon baking powder
1/2 teaspoon salt
3/4 cup sugar
2 tablespoons butter, softened
1 large egg
1 large egg white
2/3 cup fat-free milk
2 tablespoons flaked sweetened coconut
1/2 teaspoon vanilla extract
FROSTING:
3 tablespoons butter, softened
1 teaspoon half-and-half
1/2 teaspoon grated lime rind
1 tablespoon fresh lime juice
4.75 ounces powdered sugar, sifted (about 1 1/3 cups)
Preparation
1. Preheat oven to 350° F.
2. To prepare cupcakes, place 2 muffin cup liners in each of 12 muffin cups; coat liners with cooking spray.
3. Weigh or lightly spoon flour into a dry measuring cup; level with a knife. Combine flour and next 3 ingredients (through salt) in a small bowl; stir with a whisk.
4. Combine 3/4 cup sugar and 2 tablespoons butter in a large bowl; beat with a mixer at medium speed until blended (mixture will be the consistency of damp sand). Add egg and egg white, one at a time, beating well after each addition. Add flour mixture and milk alternately to egg mixture, beginning and ending with flour mixture. Fold in coconut and vanilla.
5. Spoon batter evenly into prepared muffin cups. Bake at 350° for 18 minutes or until cupcakes spring back when touched lightly in the center. Cool in pan 2 minutes; remove from pan. Cool completely on wire rack.
6. To prepare frosting, combine 3 tablespoons butter and next 3 ingredients (through juice) in a medium bowl; beat with a mixer at medium speed until smooth. Gradually add the powdered sugar, beating just until smooth. Spread about 2 1/2 teaspoons frosting onto each cupcake.