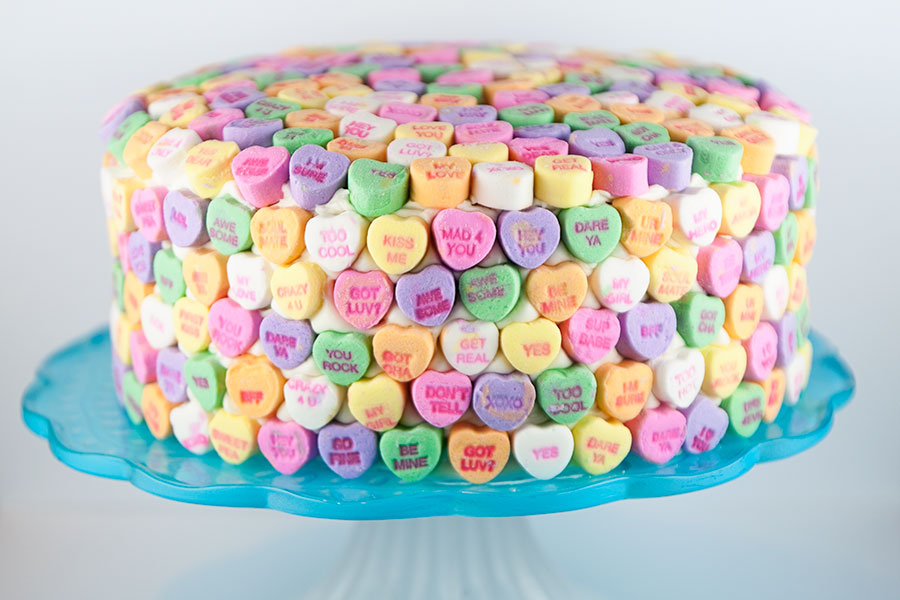 February is TOMORROW – and that means the next holiday to fret over is Valentine's Day. I saw a cake like this floating around Pinterest and thought it was awesome. But can we just stop and discuss something? Why do all the hearts look like they were a) stepped on, b) printed by a toddler, or c) part of the reject bin? Go home, candy heart-making machine, you're drunk.
I even bought a new bag thinking my first bag was surely full of defective hearts that somehow escaped quality control, but noooooo. So what we're left with is a cute cake covered with some pretty imperfect hearts.
I hope you are all staying warm — as most of the country seems to be in a deep freeze! I won't complain though, as round two of the "Polar Vortex" gave me a day off of classes earlier this week. Even Wisconsin shuts down if it gets cold enough. :)
Conversation Heart Cake
Inspired by Love from the Oven
Print Recipe
1 box cake mix (plus required eggs and oil)
1 tub of frosting (maybe two, depending on how big your cakes are and how much you like frosting)
6″ or 7″ cake pan(s)
A couple bags of conversation hearts
1. Make the cakes according to box direction.  You can use any flavor you'd like.  I used 6″ cake pans because I figured I'd go batty trying to cover a larger cake in candy hearts. Allow the cakes to cool on wire racks.
2. Assemble the cakes, spreading frosting between the layers and over the outsides of the cake. I used vanilla frosting because I thought the white color would work better than chocolate.
3. You might want to frost your cake in segments — because if the frosting dries at all, you'll have a hard time getting the candy hearts to stick. I frosted the sides of the cake first — doing about a 1/3 of the cake at a time, covering with hearts, doing another 1/3, and so on.  The last step was to frost and decorate the top of the cake.
Let me know if you have any questions!