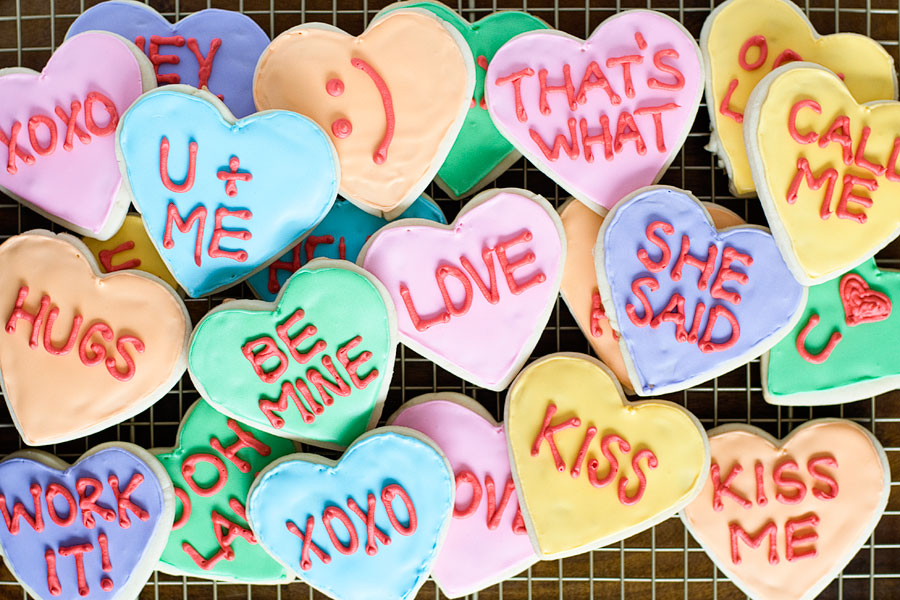 I usually plan for (and make) holiday treats well in advance — like, months in advance. Welcome to the life of a food blogger! Back in December when I was planning out my projects for Valentine's Day, I did a Google search for conversation heart cookies. I really dislike the little chalky hearts, but I really love the idea behind them. They are a staple of Valentine's Day… they are the quintessential representation of sweetness and love. I found these cookies on Annie's Eats and knew that I wanted to make them.
I used Annie's recipe for almond sugar cookies and royal icing. I also highly recommend her royal icing tutorial. I just started decorating with royal icing and the delay was because I was intimidated by the process for years. I'm sure most of you can relate.. seeing those super fancy cookies that look as if they take an hour per cookie to decorate. I would say to myself, "there is no way I could do that!" or "who has the time to make such intricate cookies?!" As it turns out, I could do that (so can you!) and most of the cookies really aren't too labor intensive. There are just a few long blocks of time required for the icing to set.
Check back tomorrow for a Valentine's Day recipe round up!
Conversation Heart Cookies
Recipe source: Annie's Eats
Print Recipe
Almond Flavored Sugar Cookies
1 cup butter
1 cup powdered sugar
1 egg, beaten
1-1/2 teaspoon almond extract
1 teaspoon vanilla
1 teaspoon salt
2-1/2 cups sifted flour
Directions:
Cream butter. Add powdered sugar. Blend in egg, almond extract, vanilla, salt and flour. Chill dough until firm. Roll to ¼â€ thickness on well-floured surface. Cut with cookie cutters. Place on greased cookie sheets. Bake at 375° for 8-10 min. Cookies should not brown. Frost and decorate when cool. Yield will depend on size of cookies.
White Royal Icing
4 cups powdered sugar, sifted
2 Tablespoons meringue powder
5 Tablespoons water
Directions:
Combine all ingredients in the bowl of a stand mixer fitted with the paddle attachment. Mix on low speed until the sheen has disappeared and the icing has a matte appearance (about 7-10 minutes). Transfer the contents of the mixing bowl to an air-tight container. This will be the stiffest consistency of the icing, and at this point it is still too stiff to use for decorating. Add water a very small amount at a time and stir by hand until fully incorporated. Continue until the icing has reached a consistency appropriate for piping.
Decorating Instructions: