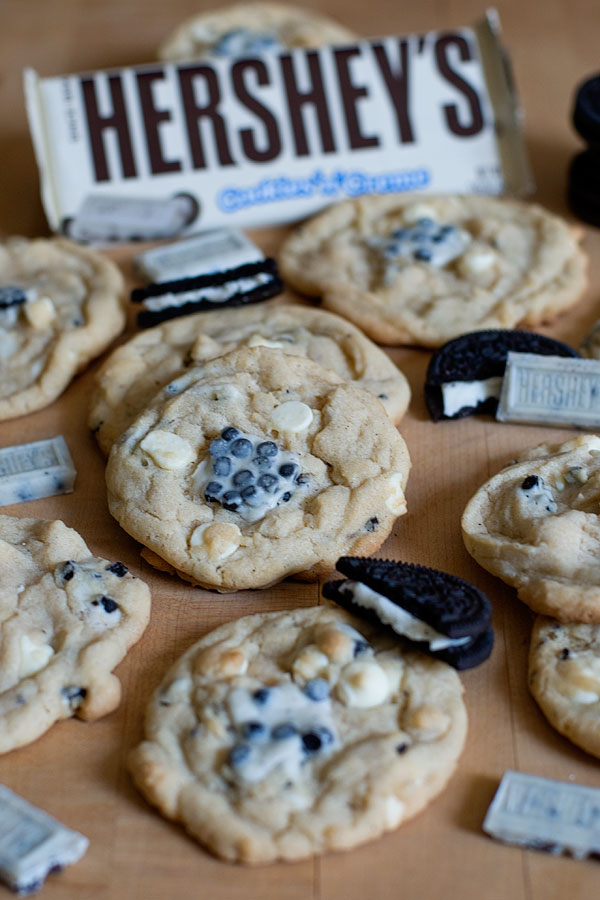 I know I have professed my love for all things cookies 'n' cream on my blog before, but let me reiterate: I LOVE COOKIES 'N' CREAM. It's my favorite ice cream flavor. Oreos are my favorite cookie. It can do no wrong. So much so that I've always dreamed of having a dalmatian because, well, duh. And I'd name him or her Cookie. Too bad dalmatians are not the sweetest of dogs. But I digress. Here's today's recipe!
Cookies 'n' Cream Cookies
Recipe source: Lil' Luna
Print Recipe
1 cup brown sugar
1 cup sugar
1/2 cup butter
1/2 cup oil
2 eggs
1 tsp. baking soda
1 tsp. salt
1 tsp. baking powder
1 tsp. vanilla
1 tsp. almond extract
3 cups flour
1-1/2 cups white chocolate chips
1 cup chopped Hershey Cookies N Cream bars
1. Preheat oven to 350F. Line two cookie sheets with parchment paper.
2. Cream butter, oil and sugars. Add eggs and beat until fluffy.
3. Add all remaining ingredients and mix thoroughly.
4. Scoop Tablespoon-sized balls of dough and place on cookie sheets. Bake for 7-9 minutes, or until edges are slightly browned.
5. Remove from oven and let the cookies sit for 5 minutes, then remove to wire racks for complete cooling.