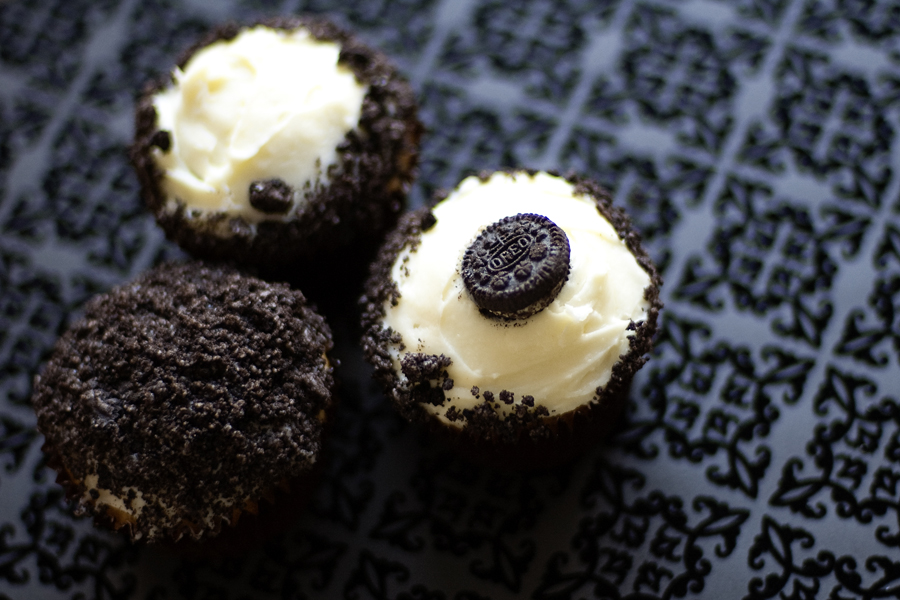 Cookies 'n' Cream Cupcakes
Print Recipe
1-2/3 cups flour
2 tea. baking powder
1 tea. salt
1/2 cup unsalted butter, room temp
1 cup sugar
2 eggs
1 tea. vanilla extract
3/4 cup half-and-half
1 cup crushed sandwich cookies (Oreos)
Frosting Ingredients:
6 oz. good quality white chocolate, broken into pieces
3/4 cup cream cheese, softened
6 tbsp unsalted butter at room temp
Mini sandwich cookies or crushed cookies for decoration
1. Preheat oven to 350F
2. Mix flour, baking powder, and salt together and set aside
3. Cream butter and sugar until light and fluffy. Add eggs one at a time, mixing well after each addition. Add vanilla. Alternately add flour mixture and half-and-half and beat until batter is smooth. Fold in crushed cookies.
4. Fill cupcake liners 2/3 full. Bake for 20-25 minutes or until tester comes out clean. Remove from oven and cool.
Frosting:
1. In a microwave or double boiler, melt white chocolate until smooth and creamy, just a few minutes. Should be warm to the touch.
2. Beat the cream cheese and butter until light and fluffy. Add melted chocolate and beat again until smooth. Use the frosting immediately or it will harden. Decorate with crushed cookies or mini cookies.
Makes 18-20 cupcakes.
Recipe credit: "Cupcakes Galore" by Gail Wagman