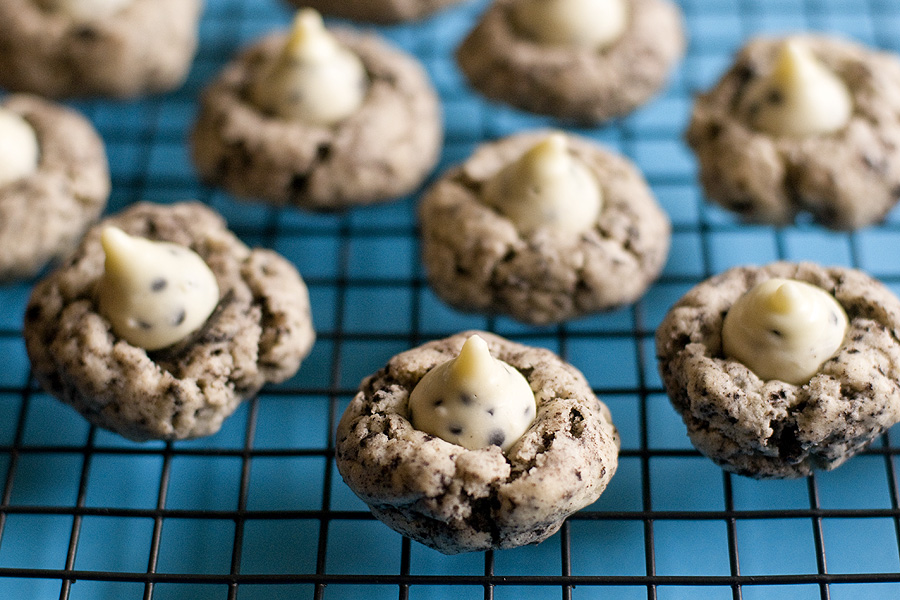 In yesterday's post I professed my love for all things mint. Today I am professing my love for all things cookies 'n' cream. I love a lot having to do with food. I love cookies 'n' cream because it involves OREOS. Cookies 'n' cream is my favorite ice cream flavor (followed closely by butter pecan, Jimmy Fallon's Late Nite Snack, and mint chocolate chip) and Hershey now makes cookies 'n' cream kisses. Heaven, I tell you. These cookies were delicious and the addition of a bit of almond extract gave them a unique flavor.
Cookies 'n' Cream Kiss Cookies
Recipe source: Sugar Plum
Print Recipe
2 cups all purpose flour
1 tablespoon cornstarch
1-1/2 teaspoons baking powder
1/2 teaspoon salt
4 ounces cream cheese, softened
1/2 cup unsalted butter, softened
3/4 cup granulated sugar
1 large egg
1 teaspoon vanilla extract
1/4 teaspoon almond extract
1 cup coarsely chopped Oreo cookies
24 cookies 'n cream kisses
1. Preheat oven to 350 degrees F.  Coat cookie sheets with cooking spray or parchment paper.
2. In a medium mixing bowl, sift together flour, cornstarch, baking powder and salt.  In a large mixing bowl, using a mixer on medium speed, beat cream cheese until softened.  Beat in butter until creamy.  Beat in sugar until well combined.  Beat in egg, vanilla and almond extract until combined.  Reduce mixer speed to low and gradually beat in flour mixture until just combined; stir in Oreos until combined.
3. Chill cookie dough in the freezer or refrigerator until cold.  Place rounded tablespoons of dough onto cookie sheets.  Bake 12 minutes or until puffed and light golden brown around edges.
4. Remove pans from oven; press a kiss in the center of each cookie.  Transfer cookies to wire racks to cool.
Makes 2 dozen cookies.