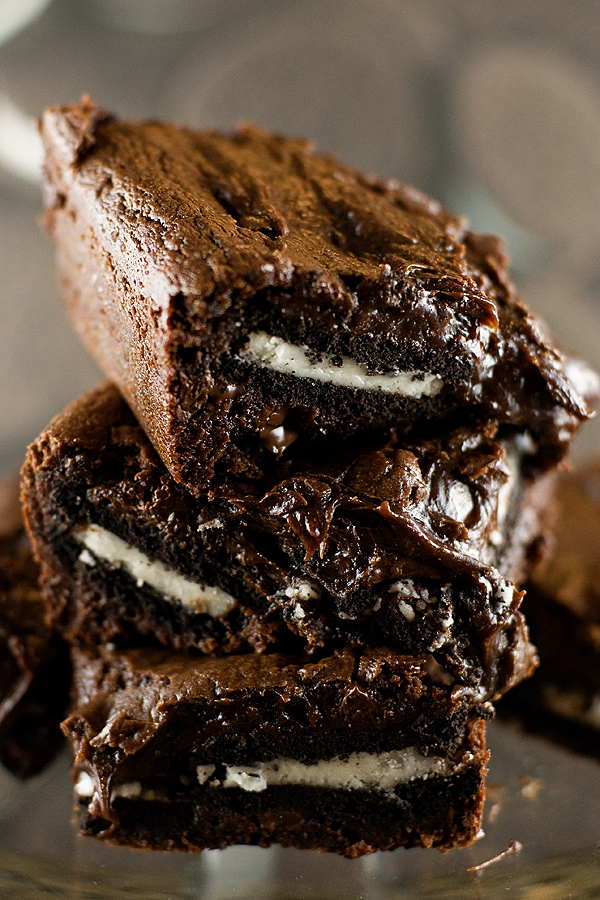 Happy Valentine's Day, chocolate lovers!! You can do one of two things with this recipe:
a) Make these brownies for your sweetie, as a lovely dessert to top off your romantic Valentine's day dinner.
b) Make these brownies for yourself, as a way to celebrate the fact that Valentine's day sucks.
I'll be going with option B. I'll try to show some restraint and not eat the entire pan…(y'all know how Oreos are my biggest guilty pleasure).
Cookies 'n' Cream Oreo Fudge Brownies
Recipe source: kevinandamanda.com
Print Recipe
1 box brownie mix (I used Ghirardelli Double Chocolate brownie mix)
Eggs & oil (as called for by the brownie mix)
1 heaping half cup (6 oz) cookies & cream ice cream
1/4 cup hot fudge topping (chilled or room temp)
Double Stuf Oreos
1. Preheat oven according to box directions & spray an 8×8 baking dish generously with cooking spray.
2. Combine brownie mix, eggs, and oil as directed on the back of the box, but do not add the water.
3. Add ice cream and hot fudge to the brownie batter and stir to combine.
4. Pour half of the brownie batter into the baking dish, layer with Oreos, then top with remaining batter. Bake for 40-50 minutes or as directed on the back of the box.