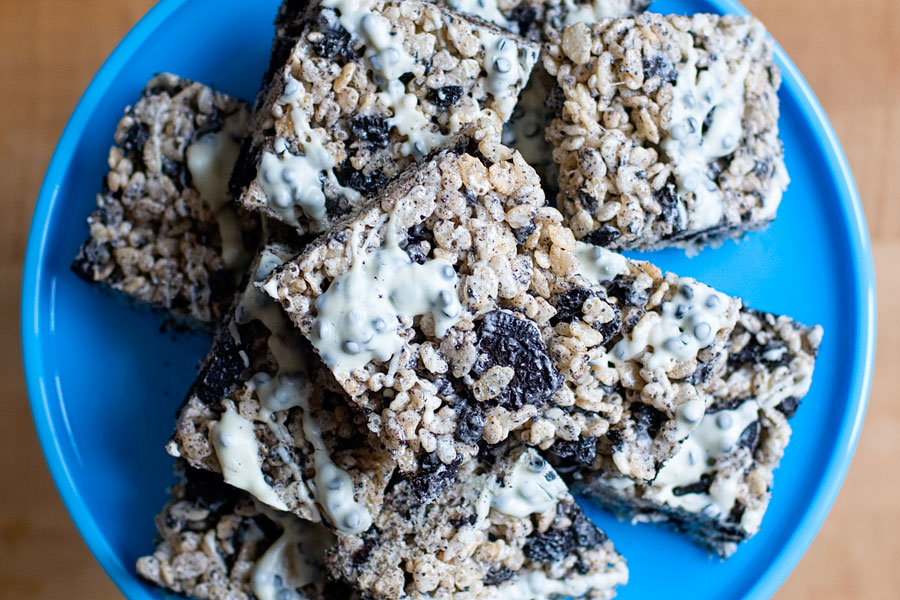 This week is going to be nothin' but rice krispie treats – of all varieties. I think the original rice krispie treat is one of the best creations – simple, delicious, and easy to make. The recipes featured this week will be rice krispie treats with a little kick – the addition of cookies, different flavors, or different cereals as the base.
Today I'm starting with cookies 'n' cream rice krispie treats. You all are well aware of my love for everything cookies 'n' cream – and here is just another example! Enjoy!
Cookies 'n' Cream Rice Krispie Treats
Recipe source: Sundays with Jennie
Print Recipe
1/4 cup salted butter
1 (10.5) oz bag mini marshmallows + an additional cup of marshmallows
6 cups Rice Krispies cereal
10 oreos, chopped into bits
Topping:
1 1/3 cups white chocolate chips
6 Oreos, chopped into bits
1. Butter or spray a 13 x 9 pan, set aside.
2. Melt butter in a large non-stick saucepan over medium low heat. Add marshmallows and stir constantly until melted.
3. Remove from heat and gently stir in Rice Krispies cereal until evenly coated. Fold in 10 chopped Oreos.
4. Pour mixture into buttered dish and gently press mixture evenly into dish, set aside.
5. In a microwave safe bowl, melt white chocolate chips on in 30-45 second intervals, stirring after each interval until melted and smooth. Spread melted chocolate evenly over Rice Krispie treats and immediately (before chocolate hardens) sprinkle with the 6 chopped Oreos. Gently press the Oreo pieces down with your hands.
6. Cover and refrigerate about 10 minutes, or alternately let rest on counter until chocolate hardens.