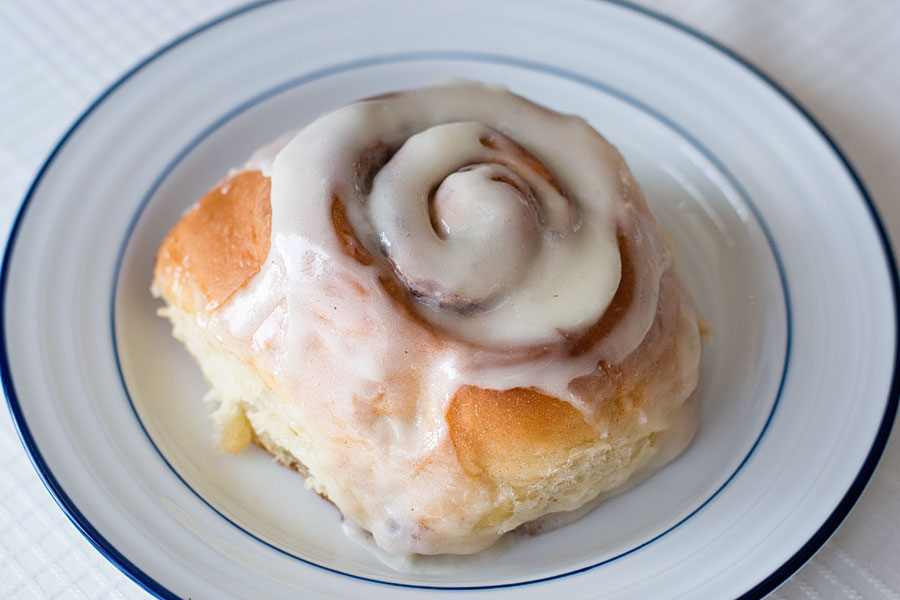 One of my new year's resolutions for 2012 was to make cinnamon rolls from scratch. I completed this task yesterday – on December 30th. Nothing like waiting until the last minute, right?! Truth be known, breads and rolls intimidate me. I'm not great with yeast, my last attempt at cinnamon rolls was a comical disaster, and I was skeptical that I could get these babies right. But I did!
The best part of any mall or airport is Cinnabon. I mean, seriously. They are one of man's most delicious creations. I found a Cinnabon copy cat recipe in Food Network magazine years ago. I ripped it out and saved it — and finally got around to giving the recipe a try. It was worth the 4 hours of time and all of the effort. Trust me. Let me say that these do not taste exactly like Cinnabons (because they are not Cinnabons), but it's a pretty close homemade version.
And lastly, I want to say happy new year to all of my readers. I hope you have a safe and fun New Year's Eve and a happy and healthy 2013. I can't wait to bake more goodies and share them with you.
Copy Cat Cinnabons
Recipe source: Food Network Magazine, November 2009
Print Recipe
For the dough:
1 cup whole milk
1 1/4-ounce packet active dry yeast
1/4 cup plus 1/4 teaspoon granulated sugar
4 Tablespoons unsalted butter, melted, plus more for the bowl
1 large egg yolk
1-1/2 teaspoons vanilla extract
2-3/4 cups all-purpose flour, plus more if needed
3/4 teaspoon salt
1/2 teaspoon freshly grated nutmeg
For the filling:
All-purpose flour for dusting
12 Tablespoons unsalted butter, softened, plus more for the pan
1/2 cup granulated sugar
3 Tablespoons ground cinnamon
For the glaze:
2 cups powdered sugar
1/3 cup heavy cream
4 Tablespoons unsalted butter, melted
1. Make the dough: Warm the milk in a medium saucepan over low heat until it reaches 100 degrees. [I used a meat thermometer to measure the temp — it's important to do this because if it's too hot, it will kill the yeast] Remove from the heat and sprinkle in the yeast and 1/4 teaspoon sugar (don't stir). Side aside until foamy – about 5 minutes. Whisk in the melted butter, egg yolk, and vanilla.
2. Whisk the flour, the remaining 1/4 cup sugar, the salt and nutmeg in the bowl of a stand mixer. Make a well in the center and pour in the yeast mixture. Mix on low speed with the dough hook until thick and slightly sticky. Knead on medium speed until the dough gathers around the hook – about 6 minutes. [I had to add 2-3 Tablespoons more flour at this point because my dough wasn't firm enough]
3. Remove the dough and shape into a ball. Butter the mixer bowl and return the dough to the bowl, turning to coat with butter. [I used non-stick spray for this] Cover with plastic wrap and let rise until doubled – about 1 hour, 15 minutes. [I turned my dryer on and placed the bowl on top of the dryer; this creates a low heat that helps the dough to rise]
4. Roll out the dough on a lightly floured surface into a 12-inch by 14-inch rectangle with the longer side facing you. Spread with the softened butter, leaving a 1/2-inch border on the far long edge. Mix the sugar and cinnamon; sprinkle over the butter. Brush the unbuttered far edge with water. Roll the dough away from you into a tight cylinder and press on the long edge to seal. Cut the cylinder into 6 equal-sized buns.
5. Butter a 9×13-inch baking pan; place the buns cut-side down in the pan, leaving space between each. Cover with plastic wrap and let rise until doubled – about 40 minutes. Preheat oven to 325F.
6. Bake the buns until golden brown – about 35 minutes. Cool in the pan 15 minutes. Meanwhile, make the glaze: whisk the powdered sugar, cream, and melted butter in a bowl. Top the buns with glaze while still warm.
Makes 6 very large cinnamon buns.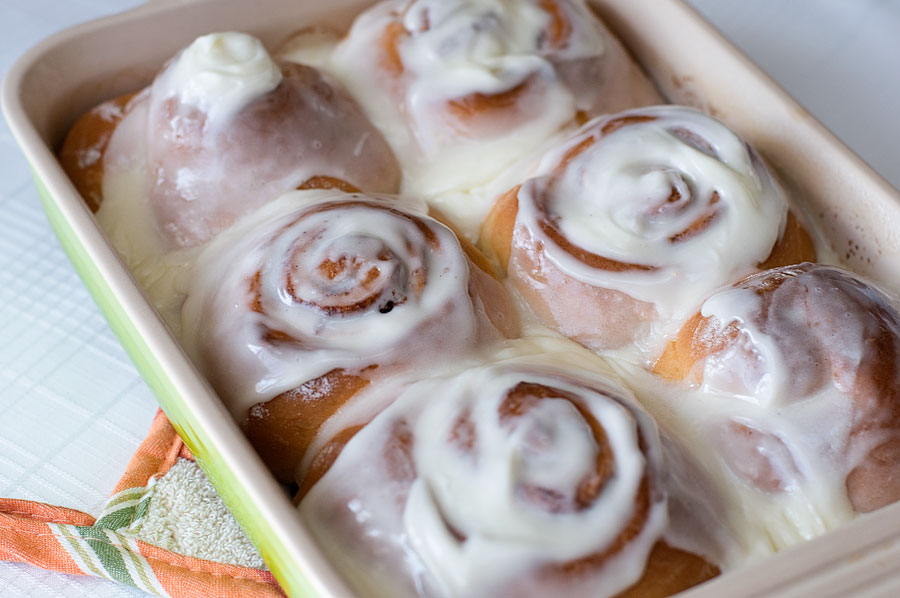 And just so you don't think everything looks perfect, I present you with this. My pan of very un-perfect, yet totally delicious, cinnamon rolls. Don't be frustrated if they come out of the oven looking weird and not totally uniform (like that bun waaaay in the back on the left…).