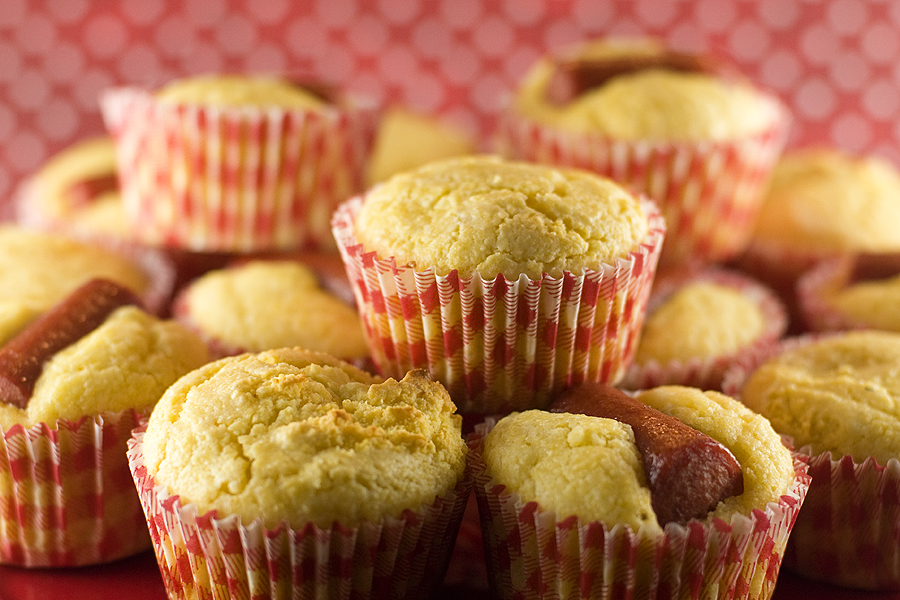 Ahh, August. The month of state and county fairs here in the Midwest and throughout the country. I visited my local county fair a few weeks ago and debated trying a fried Oreo or fried beer (yes, fried beer). But my years in microbiology & public health made me rethink eating anything sold in a hut next to a livestock barn. Corn dogs are a staple of the fair and everybody's guilty pleasure. C'mon. You know you love them.
I found a recipe for corn dog muffins on Pinterest. Pinterest is my new favorite website — it's a digital bulletin board of sorts. Totally awesome. I've made a vow to actually make some of the things I pin — and here's the first adventure: corn dog muffins! They were delicious — and the extras are very easy to freeze and store for the coming fall and winter months!
Corn Dog Muffins
Recipe adapted from: Heavenly Homemakers
Print Recipe
2 cups cornmeal (I used yellow cornmeal, though I'm sure white would also work)
2 cups all-purpose flour
2 teaspoons baking powder
2 teaspoons salt
4 eggs
4 Tablespoons honey
1/2 cup melted butter
2 cups buttermilk
8 hot dogs, cut into thirds
1. Preheat oven to 400F and line two muffin tins with paper liners.
2. Stir together dry ingredients. Add eggs, honey, butter, and buttermilk. Stir until just mixed.
3. Spoon a spoonful of batter into each cup, place a hot dog piece on top, and cover with a few more spoonfuls of batter. The cups should be about 2/3 full when you put them in the oven.
4. Bake for about 20 minutes, or until golden brown.
Makes 24 muffins.
*Note: The first twelve muffins I made, I filled the muffin cups 2/3 full of batter and then placed the hot dog piece on top. That's why you can see the hot dog piece in some of the muffins in the photo above. On the second group, I tried to hide the hot dog piece by using the method listed in step 3.