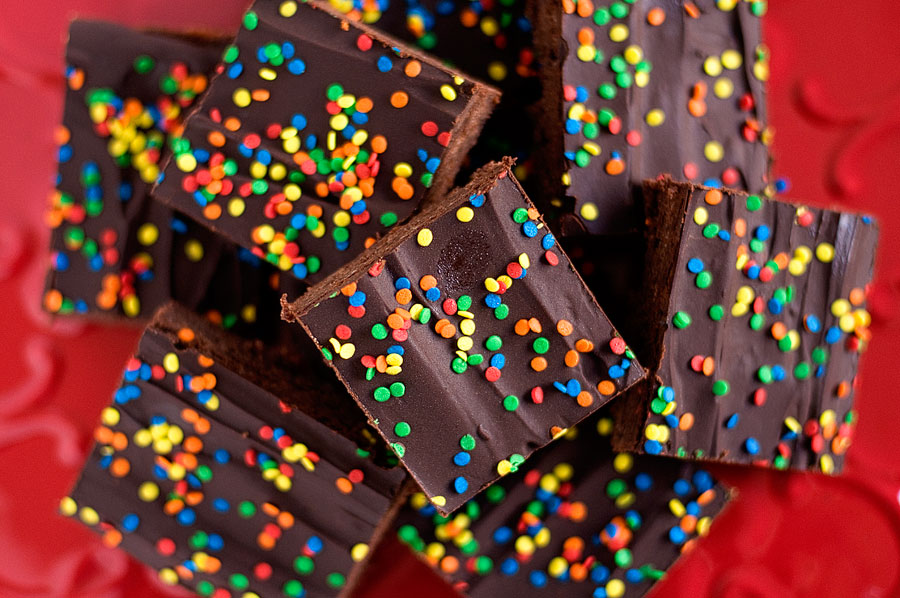 Who remembers Cosmic Brownies from the lunchboxes of their youth? I do!
Little Debbie always makes such delicious treats (everything in moderation is okay, even prepackaged junk food).
I found a homemade version of my favorite Cosmic Brownies and jumped at the chance to make them. I love a good brownie – simple chocolate goodness, and in this case, a trip down memory lane.
Yield: About 24 brownies
Cosmic Brownies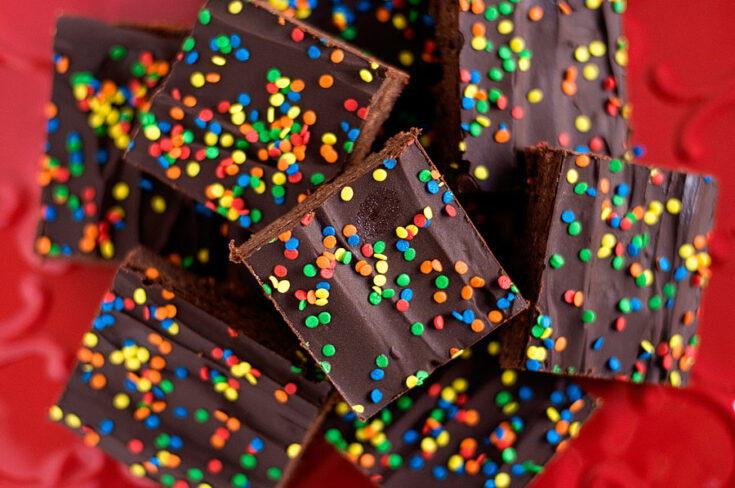 Take a cosmic spin back to childhood with these nostalgic brownies!

Prep Time 20 minutes

Cook Time 20 minutes

Total Time 40 minutes
Ingredients
For the Brownies:
1 cup sugar
2/3 cup brown sugar
3/4 cup butter, melted
2 Tablespoons water
2 large eggs
2 teaspoons vanilla
1-1/3 cups flour
3/4 cup unsweetened cocoa
1/2 teaspoon baking powder
1/4 teaspoon salt
For the Ganache:
1/2 cup heavy cream
7 oz. bittersweet chocolate
Pinch of salt
Colorful sprinkles for decorating
Instructions
Make the brownies:

1. Heat oven to 350F. Line a 13 x 9 pan with parchment paper or aluminum foil, then coat with nonstick spray. Set aside.

2. In a large bowl, combine the sugars, butter and water with a whisk. Stir in the eggs and vanilla. In a medium bowl, combine the flour, cocoa, baking powder and salt. Stir the dry mix into the wet stuff and stir to combine.

3. With a rubber spatula, spread the batter into the prepared pan. Bake for 18 minutes. Don't over bake!

4. Set aside on a rack to cool.

Make the ganache:

1. Place the chocolate in a bowl and set aside. In a small saucepan, heat the cream just to a simmer. Don't boil it, just wait till you see little bubbles starting to form around the edges. Remove from the heat and pour over the chocolate.

2. Sprinkle with the salt and let it all sit for a minute or so. Gently stir with a rubber spatula until all of the chocolate is melted.

3. Set aside to cool a bit.

4. When the brownies are mostly cool, pour the ganache over and spread it evenly over the top. Sprinkle as many or as few of the candies/sprinkles over the top as you like.

5. When you're ready to cut them into squares, lift them out with the foil and cut into the size or shape you like. [I refrigerated the brownies so the ganache could set; if you want a super oooey, gooey brownie, skip the refrigeration so the ganache remains smooth and soft]
Notes
Your yield will depend on how big or small you cut your brownies.

These brownies, because of the ganache, should be refrigerated in an air-tight container.

Recipe credit: Fake Ginger