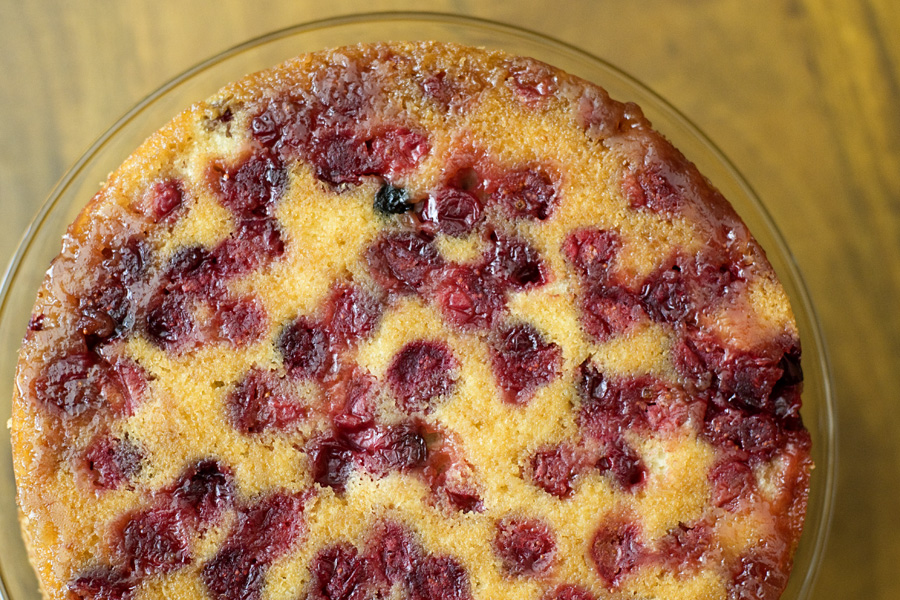 A sure sign of autumn and winter: cranberries! This cake is simple and delicious and would make a perfect fall dessert.
Cranberry Upside-Down Cake
Recipe adapted from Cooking Light Magazine
Print Recipe
Topping:
1/3 cup packed brown sugar
2 Tablespoons butter
6 oz fresh or frozen, thawed, cranberries
Cake:
6.75 ounces all-purpose flour (about 1-1/2 cups)
2 teaspoons baking powder
1/4 teaspoon salt
1 cup granulated sugar
1/2 cup butter, softened
2 large egg yolks
1 teaspoon vanilla extract
1/2 cup whole milk
2 large egg whites
1. Preheat oven to 350F.
2. To prepare topping, lightly coat a 9-inch round cake pan with cooking spray. Heat brown sugar and 2 Tablespoons butter in a small saucepan over medium heat. Cook 2 minutes or until butter melts and sugar dissolves, stirring occasionally. Pour sugar mixture into prepared cake pan, tilting pan to coat bottom evenly. Arrange cranberries evenly over sugar mixture.
3. To prepare cake, weight or lightly spoon flour into dry measuring cups; level with a knife. Combine flour, baking powder, and salt; stir with a whisk. Place granulated sugar and 1/2 cup butter in a bowl; beat with a mixer at medium speed until well blended and fluffy (about 3 minutes). Add egg yolks, 1 at a time, beating well after each addition. Beat in vanilla. Fold flour mixture into sugar mixture alternately with milk, beginning and ending with flour mixture.
4. Beat the egg whites with a mixer at high speed until stiff peaks form using clean, dry beaters. Gently fold the egg whites into the batter. Spoon the batter over the cranberries, spreading evenly. Bake for 55 minutes or until a tester comes out clean. Cool in pan 15 minutes on a wire rack. Loosen cake from sides of pan and place on a serving plate. Let stand 5 minutes and remove the pan.