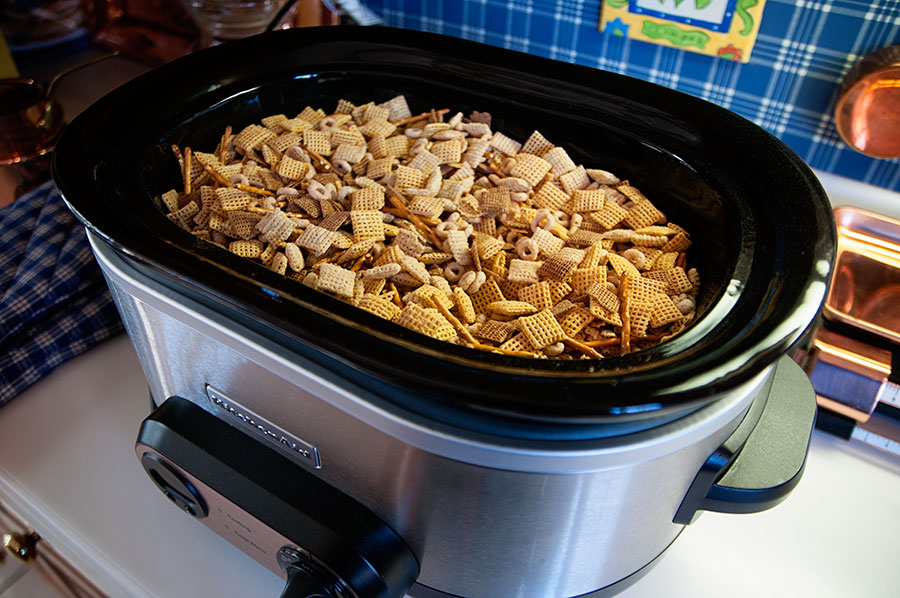 Oh yes, CROCK POT CHEX MIX! I love homemade Chex Mix. I would rank it in my top 10 all-time favorite foods. There is something so perfect about it — or maybe I just love salt a little too much. I've always thought that making it was a giant pain in the ass though. Until now.
CROCK. POT. You dump all of the ingredients into the Crock Pot. Add the butter and seasoning. And let it go for 3 hours. Your house will smell magical and you won't have to lift a finger. Give the Crock Pot method a try for the holidays!
Crock Pot Chex Mix
Print Recipe
3 cups wheat Chex
3 cups corn Chex
3 cups rice Chex
1 cup pretzels
1 cup Cheerios
1 cup nuts (I left them out)
6 Tablespoons butter (I used 8 Tablespoons — because yay butter!)
1 packet of Chex Mix seasoning (you'll find this in the cereal aisle of your grocery store)
1. Melt the butter in the microwave and add the seasoning mix. Stir until well blended.
2. Add the cereals, pretzels, and nuts to the Crock Pot. Pour the butter + seasoning mixture on top of everything. Stir everything to make sure that the butter coats the cereal.
3. Cook on low for 3.5 hours. Stir about every hour (so the pieces on the bottom don't burn).
4. Cover your countertop with foil or newspaper. When the 3.5 hours are up, spread the Chex Mix out on the counters so it can cool completely.
Enjoy!
Note: I don't think there's an exact science to making Chex Mix. Don't worry if you don't use exactly 3 cups of each cereal. Just use what you like — and don't worry too much about being precise in the measurements. Additionally, if you REALLY like salt and seasoning like I do, you might consider doubling the butter and seasoning mixture. Just sayin'. It's awesome. :)